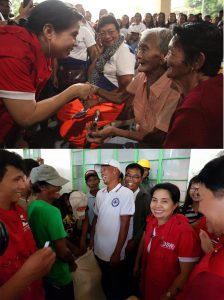 To meet people in communities for them to get a feel of the touch of the government through DSWD's programs and services is among the agenda of the visit of Sec. Virginia N. Orogo in Narvacan, Ilocos Sur just recently.
101-year-old Bonifacia Palyas of Narvacan, Ilocos Sur received her PhP100,000.00 check as centenarian gift from the government. Sec. Orogo was pleased to have met the happy centenarian and assured her that DSWD Social Workers will assist them to the LandBank as the servicing bank in the encashment of check.
The centenarian who was born on 1 June 1918 is still looking strong with her thin frame. She managed to say thank you when asked what she wanted to say to the government. According to grandchild Gary Palyas, they will use the money to buy food and vitamins of Bonifacia and also save some for future purposes.
Sec. Orogo mentioned the universal protection scheme for DSWD beneficiaries as one of the strategies in providing fast lanes when accessing services. "Hindi na kayo pipila para humingi ng tulong (you won't suffer long queue anymore)," Sec. Orogo said.
When asked about the amendment of the Solo Parents Welfare Act or Republic Act 8972, the proposed amendment include 20% discount on goods and services, flexible time for solo parent employees, and establishment of minding centers in every office or corporation.
Also, 1,000 family food packs were distributed to fisherfolks whose fishing activities stopped due to continuous rains brought about by Typhoon Henry and monsoon rains.
The activity also showcased other services such as payout of 1,712 pensioners of the Social Pension Program and the awarding of check in the amount of PhP1,070,000.00 for 97 beneficiaries from nine (9) Sustainable Livelihood Program Associations. (By: Iryn D. Cubangbang, IO)