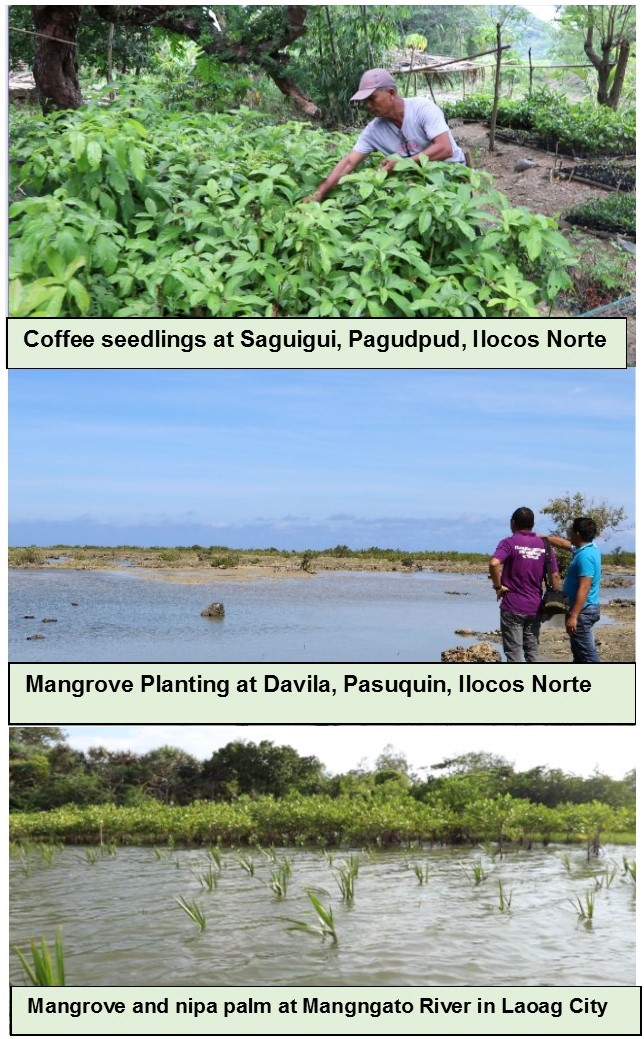 Since 2016, the Cash for Work on Climate Change Adaptation and Mitigation (CFW-CCAM) has reforested and protected at least 4,500 hectares of forest lands in Ilocos Norte. CFW-CCAM has also preserved  rivers/riverbanks/coastline  barangays  and provided temporary jobs in partnership with Ilocos Norte  Gov. Imee R. Marcos and the Provincial Environment and Natural Resources Office (PENRO).
Aside from continuous tree planting, 'kaingin' or burning of trees for charcoal making has ceased in many parts of the areas where assigned Barangay Ranger Officers have maintained  and protected seedlings planted through CFW-CCAM and guarded  the mountains from any  grass fire or man-made fires.
In Saguigui, Pagudpud, Ilocos Norte, Tribal Chieftain Emiliano Rabago is maintaining at least 4 hectares of forest land planted with fruit-bearing trees and coffee. During CFW activities, everyone in the community participates to include the elderly  and youth  who are very thankful of the  10-day work especially during lean months wherein they have no source of income at all. In here, 60,000 coffee seedlings are maintained ready for planting to other open and devastated lands in Ilocos Norte through its  Greening Program.
Twelve areas are part of the Greening Program through CFW-CCAM including Laoag City, Solsona, Dingras, Badoc, Bangui, Pagudpud, Pasuquin, Vintar, Nueva Era, Pinili, Burgos, and Bacarra.
Also, Mangrove Planting Program along the coastlines and other bodies of water in Ilocos Norte was intensified through the  CFW-CCAM. The Provincial Government of Ilocos Norte is hopeful that if their  projects are sustained, many families and communites will be protected from extreme weather event, such as storm winds and floods, storm surges, and tsunamis particularly in Laoag City, Badoc, Currimao, and Pasuquin.  Mangato River in Laoag City used to be filled with wastes and waterlilies especially during high tide. After the mangrove and nipa palm planting funded by CFW-CCAM, the area is now a beautiful scenery and is hoped to be developed as an eco-tourism park.
On the Green Wall of Ilocos Norte and PENRO Greening Program, the seedlings required are provided by the Provincial Government of Ilocos Norte as a counterpart for the said program. As mentioned by PENRO Head Estrella Sacro, CFW-CCAM is necessary to sustain the workforce, thus, maintaining the progress of projects towards proper management and conservation of the environment through local greening initiatives.
During the project monitoring, community folks appreciated the  efforts of the government under the leadership of Gov. Marcos and DSWD Regional Director Marcelo Nicomedes J. Castillo. (By: Iryn D. Cubangbang, IO II)