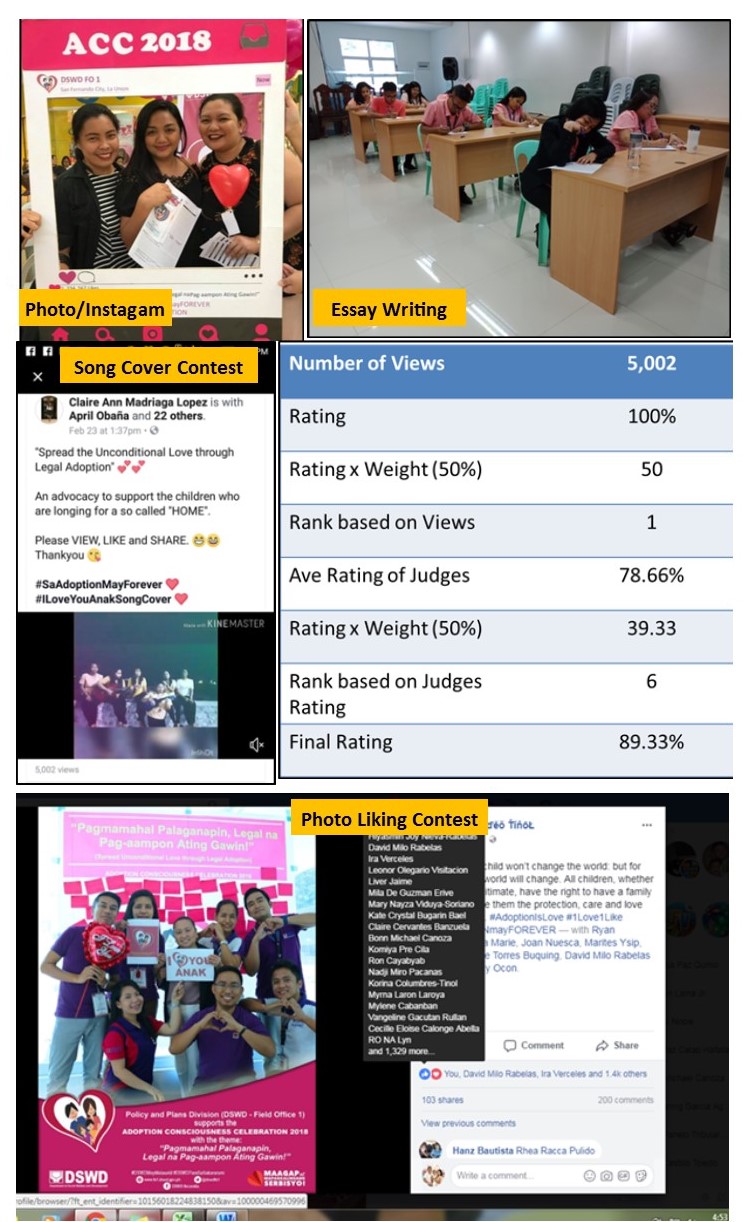 No to falsification of birth certificates (also known as simulation of birth) and yes to the legal process of adoption for children declared legally available for adoption was the central message of this year's Adoption Consciousness Celebration (ACC).
As Director Marcelo Nicomedes J. Castillo emphasized, the thorough assessment done by the Social Workers ensures the best welfare and interest of these children to surface along with other reasons for adoption.
As defined, adoption is a  socio-legal process of giving a permanent family to a child whose parents have voluntarily or involuntarily given up their parental rights.
Through various activities like Photo Liking, Song Cover, and Essay Contests, this year's ACC intensified advocacy activities to encourage individuals or couples to foster or adopt children who are abandoned, neglected, or to elevate legitimacy.
At the DSWD Field Office 1, a commitment tarp with 61 personalized messages/commitments written in small fuschia notes was generated and displayed. Also, the Adoption Help Desk installed at CSI Mall, City of San Fernando, La Union and  SM City Rosales, Rosales, Pangasinan on 17-18 February engaged the public on the featured messages advocating for legal adoption. Uploaded at DSWD's FB page, DSWD Ilocandia, are  photo/Instagram frames photos of participating individuals. Also, personalized mugs, calling cards, pamphlets, candies/lollipops, and balloons were distributed to catch the attention of the public to inquire about DSWD's Alternative Family Care Program (adoption and foster).
 The Essay Contest First Prize winner, Project Development Officer III Darwin T. Chan said, amidst the challenges of many orphaned children and those who are residing in centers, adoption or foster care is one act that requires unconditional compassion to care for one among these children. Chan said he dreams of a society where "no child should be left without a mother or a father, no child should be burdened raising her/his own self, and no child should be bullied  by classmates because no parent is around."
The second and third prize winners are Regional Training Specialist Crystal Joy P. Aspiras and Social Marketing Officer  Janine Joy B. Altero. Cash prizes were awarded.
Engaging more the public who are fond of Facebook, the Photo Liking was also launched bearing the hashtag #saADOPTIONmayFOREVER, photos with strong messages of support to adoption or foster care were posted.  Among the 22 entries, the most liked photo (with 1,367) was posted by Listahanan Information Technology Officer Aristedeo Tinol. The second and third prize winners are  Novalyn Baradi (1,340 likes)   and Jan Jan Manzano (1,238 likes), respectively.  Winners received cash prizes amounting to Php3,000.00, Php2,000.00, and Php1,000.00, respectively.
Moreover, the staff and clients of Ilocos Norte Provincial Operations Office (POO) led by Cynthia Ablog were oriented on Adoption and Foster Care and other DSWD programs and services. (By: Iryn D. Cubangbang, IO II with report from Hiyasmin Joy N. Rabelas)