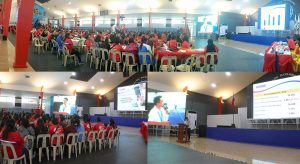 The National Household Targeting System for Poverty Reduction or the Listahanan of the Department of Social Welfare and Development – Field Office 1 (DSWD FO 1) showed the profile of the 5,881 poor households or 36,638 poor individuals out of the 22,483 assessed households in the Municipality of Bayambang, Pangasinan during their recently held "Anti-Poverty Summit 2017."
DSWD FO 1 Listahanan Regional Statistician Ryan P. Arbollente pointed out in his presentation that the Local Government Unit (LGU) of Bayambang ranked 2nd in terms of the magnitude of poor households and ranked 10th in terms of the percentage of poor households in the province of Pangasinan based on the data from the second round of household assessment conducted in 2015.
Mr. Arbollente also provided the comprehensive picture of Bayambangs' poor households by sector, their educational attainment, their primary occupations, and their socioeconomic information. Some of the Listahanan data generated and presented by Mr. Arbollente revealed that 73% out of the 7,445 poor women (ages ranged from 18-59 years old) are unemployed. There are also 1,477 poor Senior Citizens in Bayambang, Pangasinan.
In addition, 774 poor households or 1 out of 8 poor households in Bayamabang do not have access to electricity in their homes and 39% or 2,300 poor households have unsanitary toilet facility or do not have exclusive access to a toilet.
Further, Mr. Arbollente encouraged the LGU of Bayambang to have a Memorandum of Agreement with DSWD Listahanan to further know the faces behind the statistics of the poor households that is useful in crafting their social protection programs and services since the Listahanan project of DSWD is a targeting system that can provide who and where the poor are.
Other government agencies like the Department of Agriculture – Regional Field Unit 1 (DA-RFU 1), the Department of Trade and Industry (DTI), the Department of Education (DepEd), the Department of Health (DOH), the National Economic and Development Authority (NEDA), and the National Anti-Poverty Commission (NAPC) also attended the said event and discussed their available programs and services intended for the vulnerable sector, and also to help address the poverty situation through creating a concrete plan of action in support to the ongoing Rebolusyon Laban sa Kahirapan (War Against Poverty) of the LGU of Bayambang. (by: Jaymante Pearl B. Apilado, Administrative Assistant III, NHTS-PR/Listahanan)