The Listahanan or the National Household Targeting System for Poverty Reduction is all set in sharing the data of poor households to Regional Line Agencies (RLAs), Academe, Civil Society Organizations, Tri-media, Private Sectors, and to all Local Government Units in Region 1.
Series of Listahanan consultation dialogue were recently conducted to intensify the utilization of Listahanan data by various stakeholders implementing social protection programs for the marginalized sector. The Listahanan data is a vital source for planning and developing programs, projects, and services for the poor since the Department of Social Welfare and Development (DSWD) Listahanan Project identifies who and where the poor are.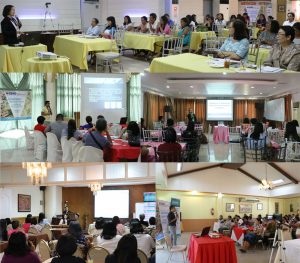 Unlike the Listahanan data from the year 2009 first round of household assessment, the generated Listahanan data from the year 2015 second round of household assessment is now covered by the provisions of the Data Privacy Act of 2012 or Republic Act No. 10173 (RA 10173) being implemented by the National Privacy Commission that aims to protect the fundamental human right to privacy while ensuring the free flow of information.
Since the policy has a big role and implication in the Listahanan data sharing guidelines, the data sharing processes and systems of Listahanan will be tightened to safeguard the right to privacy of the disadvantaged sectors and at the same time ensure their right to social security. "We really have to protect our data particularly this is our beneficiaries' ", said DSWD Field Office 1 (DSWD FO 1) Regional Director Marcelo Nicomedes J. Castillo in his welcome remarks during one of the consultation dialogues.
A total of 213 participants attended the six Listahanan consultation dialogues and are now aware of the systems and procedures utilized by the Listahanan in coming up with the database of poor households. The participants were also oriented on the salient features of RA 10173 and the guidelines on the sharing of Listahanan database that include forging of a Memorandum of Agreement that will secure the commitment of parties to the proper use and security of the information of the poor. (by: Jaymante Pearl B. Apilado, Administrative Assistant III, NHTS-PR/Listahanan)