DSWD has provided burial assistance amounting to Php5,000.00 to the bereaved families of  the 20 fatalities of a jeepney's collision with a bus while traversing San Jose Sur, Agoo, La Union on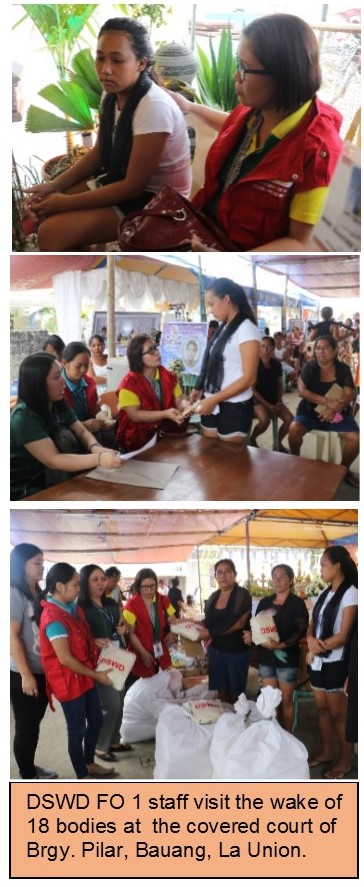 the way to Manaoag, Pangasinan to attend a 5 o'clock mass on 25th of December 2017. Of the fatalities, 13 were Pantawid Pamilya beneficiaries. Ten were also injured with 1 victim's leg amputated.
The assistance also included 10 sacks or 360 kilos of rice and 2,112  sachets  (or 4 boxes) of 3-in-1 coffee received at the wake for the 18 bodies at Pilar, Bauang, La Union. Two bodies were claimed by their families from Paringao, Bauang, La Union and Sta. Cruz., Ilocos Sur, respectively.
The needs of those injured were coordinated with the Ilocos Training and Regional Medical Center, of which, the Department of Health covered their hospitalization.
As mentioned by Dir. Marcelo Nicomedes J. Castillo, further assistance as may be deemed necessary shall be assessed by social workers assigned.
Also, an initial stress debriefing or psychosocial support processing was conducted by some social workers to process reactions and possible negative  emotions of the bereaved family members due to the accident.
According to Municipal Social Welfare and Development Officer Erlinda Nunan of  Bauang, La Union, other concerned agencies and local officials poured in food and financial assistance to the bereaved families of the victims and are properly coordinated with them.
These donations are also monitored under the care of Barangay Captain Marivic Bulacan of Brgy. Pilar, Bauang, La Union.
Among the bereaved family members is Al Jean Cabradilla, 19, who decided not to join the group even with persistent invitation. She is thankful of the help from DSWD. Al Jean outlived her parents, her sibling and brother in-law and nephew who all died in the said accident. (by: Iryn D. Cubangbang, IO II)