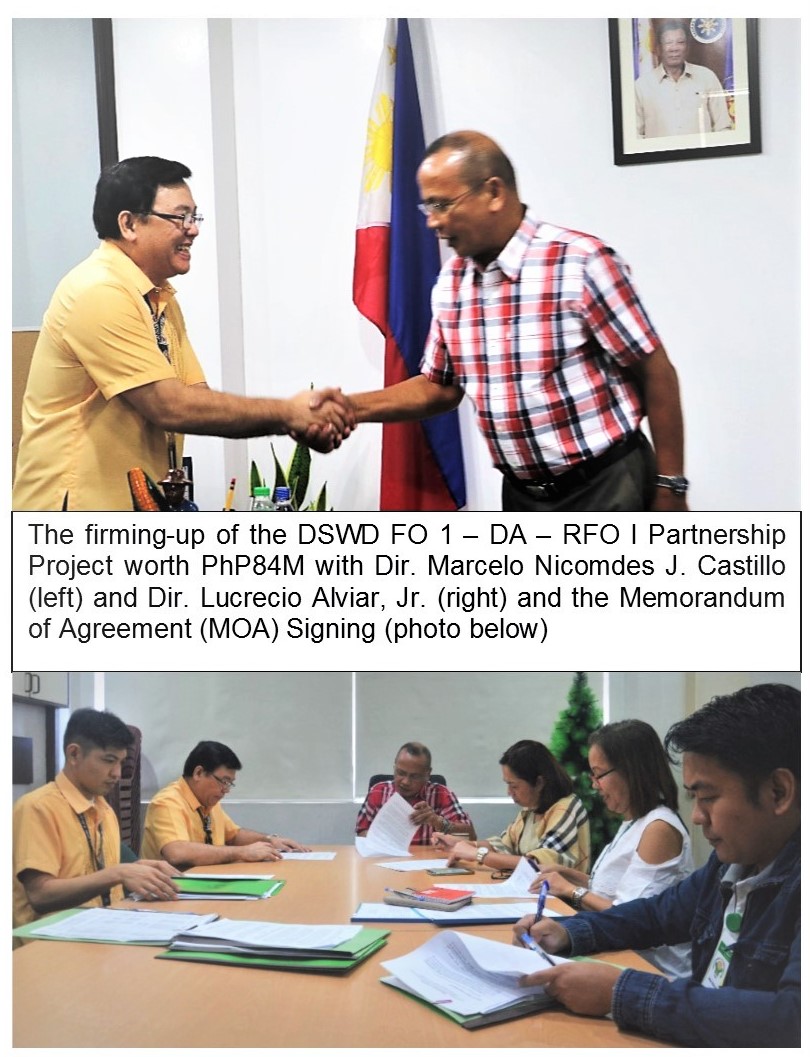 To achieve a higher probability of sustained livelihood projects among the disadvantaged   families  in the most efficient manner and optimum cost,  DSWD FO 1 and DA – RFO I Partnership Project worth PhP84,939,750.00 through the Sustainable Livelihood Program (SLP) was launched.
On this project, the two agencies agreed to ensure implementation with the existing agency policies, Procurement Law and other existing restrictions as maybe applicable on this newly formed partnership.
Some 4,161 beneficiaries will benefit from 9 Agri-Related Projects namely: Hog Raising, Native Pig Production, Duck Raising and Salted Egg Production, Cattle Production, Chicken and Egg Production and Management, Goat Raising, Sheep Raising, Broiler Production, and Quail Egg Production.
Also, DA- RFO I attached agency Bureau of Fisheries and Aquatic Resources (BFAR) will assist beneficiaries on conservation and protection of fisheries and aquatic resources projects worth PhP5M.
Moreover, the PhilRice in  Batac City will assist 750 beneficiaries to implement rice technologies and activities worth Php15M while  the Agricultural Training Institute (ATI) in  Santa Barbara, Pangasinan will support 120 beneficiaries with the training funds amounting to  PhP2,520,000.00 .
DSWD FO 1 will continue to facilitate social preparation activities, Community Driven Enterprise Development (CDED) sessions, and other interventions deemed necessary. On the other hand, the  DA – RFO I   will take full responsibility in the proper disbursement of funds,  establish tie-up with partners  for skills trainings, and in innovative marketing of products and services.     (by: Iryn D. Cubangbang, IO II)