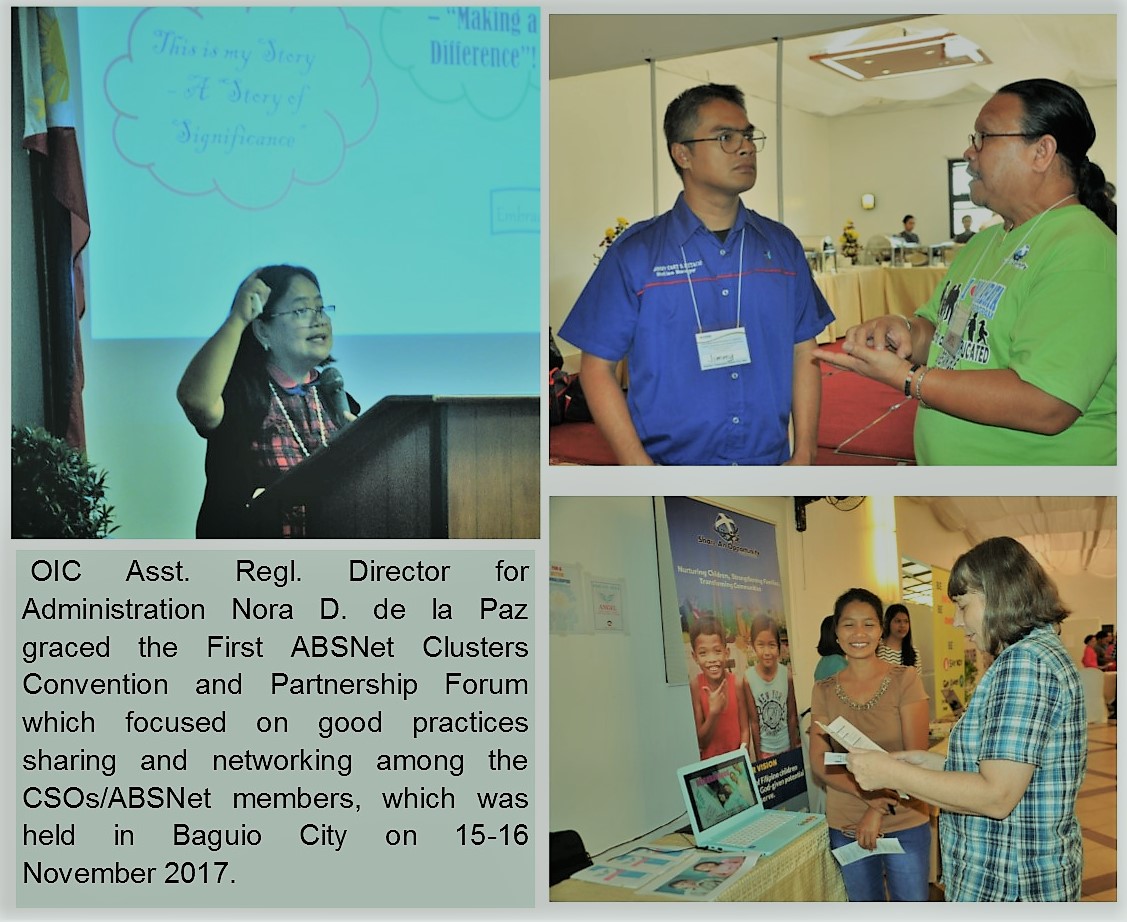 Some  65 Social Welfare and Development Agencies (SWDAs) and Local Social Welfare and Development Offices (LSWDOs) representatives fostered ties with 6 non-government organizations (NGOs), inviting them to also access the benefits of being a registered, licensed and accredited civil society organizations (CSOs).
These potential partners which joined this event include Partas Transportation, Fariñas Transportation, Rotary Club of Metro San Fernando City, Holcim Philippines, CB Mall and Greenmont Systems International. They initially affirmed support to the Area Based Standards Network (ABSNet) and are interested to tie up with their existing corporate social responsibility activities.
This was the highlight of the 3-day First ABSNet Convention and Partnership Forum held in Baguio City recently.
Like DSWD, these ABSNet members are implementing social welfare and development services to a particular vulnerable group maximizing on their resources, expertise, and networks.
During the Convention, updates on DSWD's strategic plans and organizational outcomes, laws and policies, as well as programs and services were provided. Also, motivational speaker OIC-Asst. Regl. Dir. for Administration Nora D. de la Paz gave an overview on the essentials of being a leader in touching lives and in making a difference.
While a leader is in the making, attitude was mentioned to be very crucial. "Adopting a good healthy attitude towards life does not affect society nearly as much as it affects us; the change cannot come from others, it comes from us," De la Paz exhorted.
During the Forum, OIC-ARD Nora D. de La Paz recognized the role of NGOs/CSOs as care service providers. "Continue being a hero by doing what is good, what is right, and being a blessing to other people through various programs and services for-a-good-cause to families and communities," De la Paz further said. (by: Iryn D. Cubangbang, IO II)