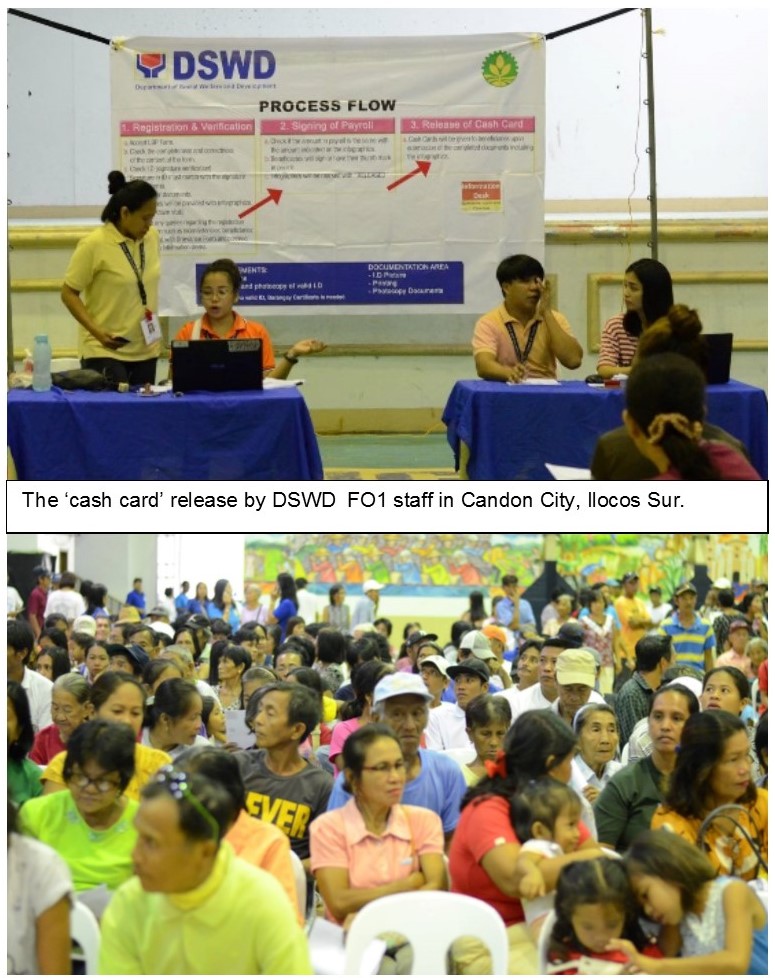 DSWD FO1 is set to complete the release of Php 237,116,850.00 additional cash assistance to typhoon victims through 'cash cards' to 32,603 families by the end of November this year.
At present, a total of Php 164,256,500.00 was already released to 22,192 families in the Region.
It can be noted that last year, immediate release of Php 5,000 to these families was done under the Emergency Shelter Assistance Program for Typhoon Lawin victims. The remaining balance of Php 25,000.00 for those with totally-damaged houses and Php 5,000.00 for those whose houses are partially-damaged has been released.
Said total amount also includes Cash for Work amounting to Php 2,100 each family as the minimum wage for an individual who has worked for 10 days on projects restoring infrastructures in the communities such as dike and canal repairs, road clearing, among others. These projects are also mitigating measures to lessen the impact of upcoming disasters.
The Province of Ilocos Sur has the biggest number of recipients with 20,668 for totally-damaged houses followed by the Province of Ilocos Norte with 9,113 families.
Upon instruction of Dir. Marcelo Nicomedes J. Castillo and close coordination with concerned institutions like Land Bank of the Philippines and Local Government Units (LGUs), it is expected that all beneficiaries will receive cash cards with the set deadline.
As of last week of October 2017, 9,691 families are yet to receive a total amount of Php 61.97 million until November 2017. This is 30.7 % of the unreleased amount of Php 72.8 million now being fast-tracked maximizing all manpower of the DSWD FO1, its provincial operations offices, and counterparts. (by: Iryn D. Cubangbang, Information Officer II)