In investing on human capital and honing capabilities, the Department of Social Welfare and Development (DSWD) through its Community-Driven Development (CDD) Program, the Kapit-bisig Laban sa Kahirapan Comprehensive and Integrated Delivery of Social Services (Kalahi-CIDSS), recently conducted the Leadership Training for the community volunteers and members of the Barangay Subproject Management Committee (BSPMC) and officials of the barangays who are beneficiaries of the said Program.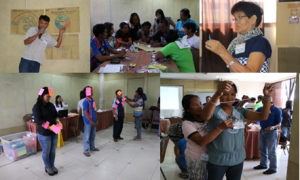 The Training aimed to let the participants reflect on their capabilities and characteristics that would make them better community leaders and identify situations where these could be applied. As part of facilitating empowerment in the grassroots communities, DSWD Kalahi-CIDSS develops emerging frontrunners who will continue the culture of collaboration and teamwork in addressing urgent problems and needs.
The participants actively participated in various workshops and group activities that tested their leadership skills and personal abilities. They were made to realize the essence of working together and trusting their capabilities in facing challenges.
"Uray dakami ti mas nataengan, kasla nga dakami ti annakyo. Gapu ta adu ti insuru yo kadakami. Saan laeng nga empowerment ti insuruyo kadakami, insuruyo pay daguiti banbanag nga saanmi pulos nga maadal ti eskwelaan [Even if we are older than you (DSWD Kalahi-CIDSS staff and facilitators), it was as though we were your children. You taught us a lot. Not only did you teach us empowerment, you also taught us things we cannot even learn in school)," said Felino Dallego of Barangay Cuenca, Pugo, La Union.
This new breed of leaders will pave the way for better partnerships with the local government in crafting progress plans and implementing local development projects. They also committed to continuously improve themselves to become better local heroes who will champion Bayanihan which they believe will hasten their growth as a community.
The DSWD Kalahi-CIDSS stands by its mandate to empower individuals who can give huge contributions in the development of their localities. More than the millions-worth of infrastructure subprojects, the Program invests in instilling knowledge and capabilities to its beneficiaries. (by Helen Veryan C. Valdez, Social Marketing Officer, Kalahi-CIDSS)