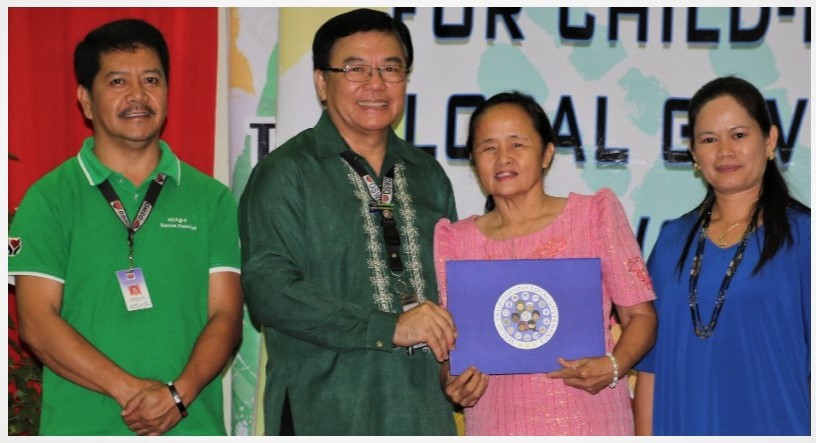 The outstanding regional passing rate of 96 percent is a remarkable achievement of children advocates and workers in the Local Government Units (LGUs) and their regional counterpart. The region has been a consistent top performer since the mandatory audit in 2014.
"This also shows commitment and adherence to local and national policies protecting the rights of children while the crafting of responsive services to ensure stringent observation of children's welfare in local communities is also given attention," Regional Committee for the Welfare of Children (RCWC) Chairperson Dir. Marcelo Nicomedes J. Castillo said.
The Seal for Child-Friendly Local Governance (SCFLG) is conferred by the Council for the Welfare of Children (CWC), the national counterpart of RCWC, upon LGUs that passed the mandatory Child-Friendly Local Governance Audit.  The first regional awarding rites coincided with the regional convention of Child Development Workers.  It was graced by Mayors, Local Social Welfare and Development Officers, Local Government Operations Officers, official representatives of municipalities and cities, and the media.
The consistent top performing LGUs were observed to have institutionalized integrated efforts translated into legislations to protect the rights of children, as evidenced by 111 LGUs having a Local Code for Children.
Per information from the CWC, the current 12 indicators will be expanded to include more results-based assessment criteria which will be categorized according to the four categories of the rights of a child — survival, protection, development, and participation.
Accordingly, there are strategies being suggested for implementation such as the expansion of the Interagency Monitoring Task Force (IMTF) that is tasked to monitor and evaluate the functionality of Local Councils for the Protection of Children. From its current membership composed of DILG, DSWD, and DepEd, the following are recommended for inclusion: Department of Health (DOH), Department of Labor and Employment (DOLE), National Nutrition Council (NNC), and Civil Society Organizations (CSOs).
To document and share LGUs' good practices and innovations along the children's sector, a Knowledge Management System (KMS) shall also be established.  The KMS will serve as repository of data and information through an operational mobile application in smart phones or tablets. (by: Iryn D. Cubangbang, Information Officer II with report from Ms. Faye Angeli Liwanag)