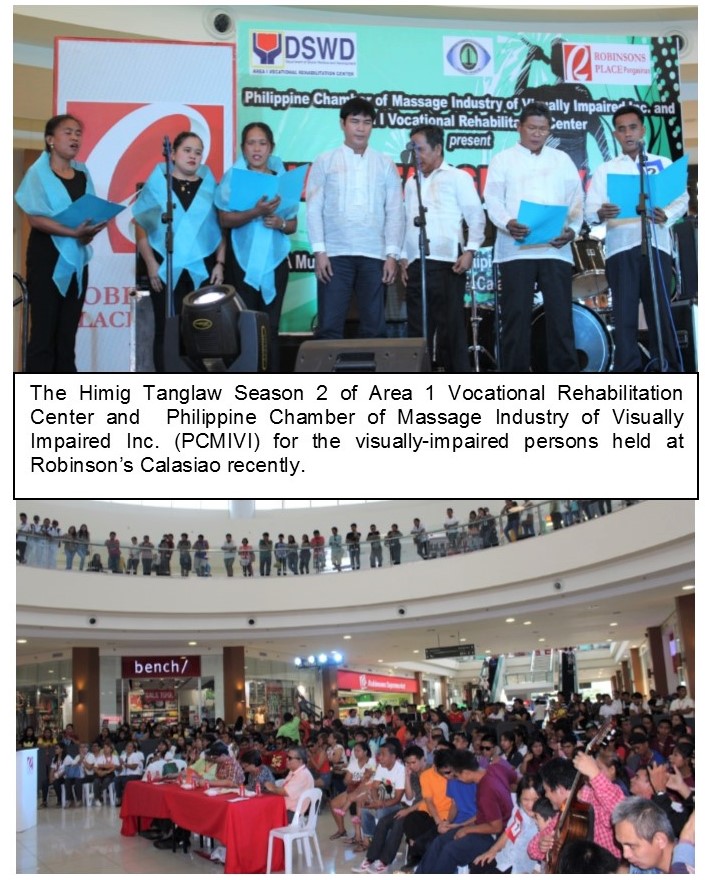 The Area 1 Vocational Rehabilitation Center of DSWD, in partnership with the Philippine Chamber of Massage Industry of Visually Impaired, Inc. (PCMIVI), organized the musical talent showdown among 25 visually- impaired (VI) persons from CAR, Regions 1, II, III held at Robinson's Calasiao, Pangasinan recently.
Himig Tanglaw Season 2 served as an audition for the national competition in the following categories: Vocal Solo, Chorale/Acapella, and Battle of the Bands that will be held at SM Aura in Taguig City sometime in December this year.
For the Vocal Solo category, the following were selected: Samantha Rylin Caber from Laoag City, Alona Bateg from Baguio City, and Rose Michelle Espiritu, an AVRC client.
For the Chorale/Acapella Group,  Himirana (Baguio City)  and  Candon City Federation of PWDs Choral Group  were selected.
With the Battle of the Bands category, the Ignite Band from Ilocos Sur and DM Band of Dagupan City were chosen.
PCMIVI President Ronnel Del Rio recognized the displayed positivity among the visually-impaired persons, especially witnessed in their showcased abilities and even their deeply-felt motivation to live a normal life despite partial or no vision at all.
"Ensuring that PWDs are given  every chance and opportunity  in the mainstream of the society, more so in the field of performing arts,  is among the noble endeavors of DSWD-AVRC 1 and  PCMIVI, their inclusion and participation matter most," said  Ms. Elizabeth C. Manuel,  AVRC 1 Training Center Superintendent.  (by: Iryn D. Cubangbang, Information Officer II with report from AVRC 1)