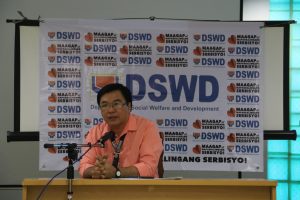 "DSWD's hashtag 'May Malasakit' is its new  branding that carries the administration's  call to reach all groups of people needing assistance popularizing the message "Gikan sa masa para sa masa (from the masses to the masses). At Field Office 1, series of campaigns is being done to provide information on programs and services for better understanding, thus, easy access."
This highlights the opening statement of Dir. Marcelo Nicomedes J. Castillo during the Press Conference recently held at Panlipunan Hall, DSWD, City of San Fernando, La Union.
"Gusto naming makita ng tao 'yung tunay na pagtulong at madama nila ang serbisyo ng pamahalaan sa pamamagitan ng aming mga programa at serbisyo (We want the people to feel the essence of helping them through our programs)," Dir. Castillo further added.
On Social Pension Program, the purpose of Php 1,500.00 'stipend' was explained as an augmentation to the basic needs of the poor senior citizens and its maximized use is not restricted by DSWD. This issue was clarified with the reported case that an instruction was issued wherein rice should be included as among the 'basic items' to be purchased.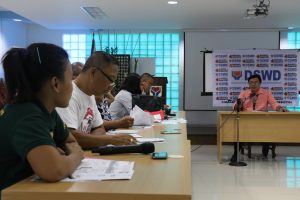 Started off this year, the rice subsidy of Php 600.00 a month for the Pantawid Pamilya beneficiaries was already included in the received cash grants. "Continuous interventions are pooled or unified to really give a dent and sustain the progress among the Pantawid Pamilya beneficiaries," Director Castillo announced.
In addition, community and people empowerment, micro-enterprise and employment facilitation supplement the needs of Pantawid Pamilya beneficiaries. The Sustainable Livelihood Program has tapped companies in the localities and in nearby regions like the Hanjin Heavy Industries and Construction Philippines.
According to Dir. Castillo, the Office has also conceptualized strategies to respond to social issues such as the 'Bajaus'  and 'Taong Grasa'. Concerned Local Government Units  (LGUs) and government agencies are currently looking into providing better opportunities and safer environment both for these families and to communities where they roam around. "Intervention always goes back to strengthening of families, where basic needs and values formation are done," Dir. Castillo added.
As to grievances on Pantawid Pamilya beneficiaries such as those involved in gambling, card pawning, and grants misuse, the access to 'grievance hotline' 0918-912-2813 was shared.
Moreover, to ensure speedy access on Assistance to Individuals in Crisis Situation (AICS) for individuals in need, Certificate of Indigency/ Residency accompanied with hospital bill/prescriptions for medical; balance bill from funeral parlor and death certificate for burial; certificate of enrolment/assessment for educational; police blotter for transportation allowance must be secured and submitted to the Crisis Intervention Section. (by: Iryn D. Cubangbang, Information Officer II)