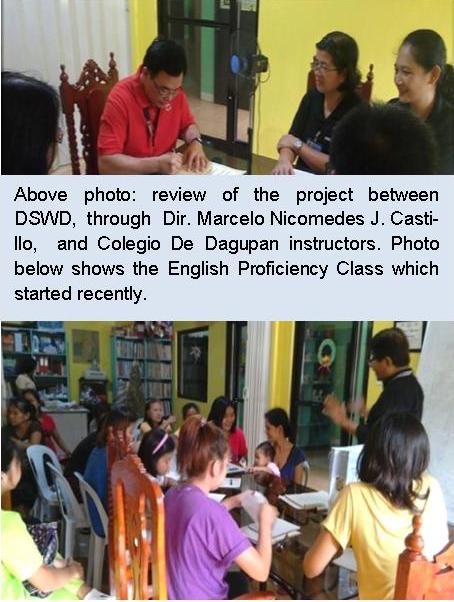 It all started with a client studying at Colegio De Dagupan who caught the interest of instructors while selling handicrafts, which eventually led to a partnership to improve their English proficiency and Computer Literacy.
This project details were discussed at the Haven for Women between and among Regional Director, Marcelo Nicomedes J. Castillo, Haven for Women Center Head Aida B. Rufo and the Colegio de Dagupan representatives – Dean of Academic Affairs Reynald Jay Hidalgo, Ms. Terry Ann Cayabyab, and Ms. Lenita Biala of Colegio de Dagupan. This was sent to Commission on Education afterwards.
With the said partnership, Center Head Aida Rufo acknowledged this kind of volunteerism in achieving the Center's mission of capacitating women survivors of abuse thru the provision of knowledge and skills for them to become better persons and avoid further victimization.
The English Proficiency class is facilitated by Mr. Conrad Quintos while Ms. Terry Ann Cayabyab and Ms. Lenita Biala hold the Computer Literacy Class.
True to its purpose, a trafficking victim-client expressed appreciation for her lessons on sentence construction and parts of speech. She is optimistic that these kinds of lessons will help her comprehend English better especially if given the opportunity to work abroad someday.
Likewise, the importance of Computer Literacy was realized by an abused client, along with homelife activities she took for granted prior to her admission in the center.
As exhorted during the dialogue with partners, Director Castillo is hopeful about the positive results of the partnership and its maximized use among the clients as this will serve as additional skills in facing their lives upon return to their own families or communities. (by: Iryn D. Cubangbang, Information Officer II and Danicar Maleon, SWO I).