"DSWD has been working on requests of farmers and fisherfolks who claimed to be unserved Typhoon Lawin victims," Director Castillo assured during their second-t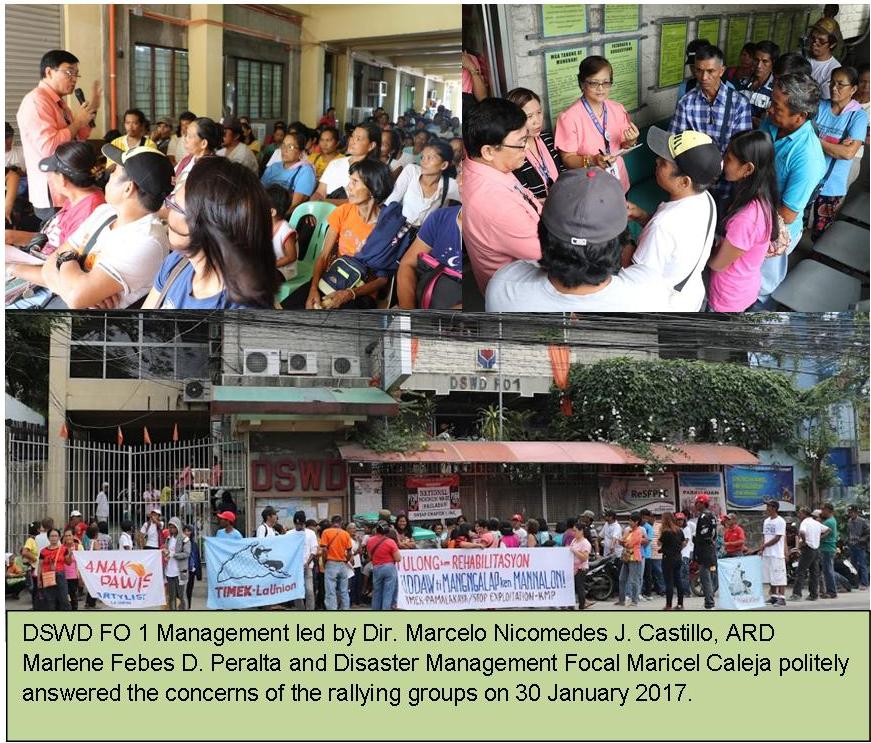 ime rally at Field Office 1 on Monday (30 Jan) morning.
The group was composed of  leaders and members of Alyansa Dagiti Mannalon iti Ilocos Norte, Anak Pawis, Timek–La Union, TimekPamalakaya, and Gabriela. About a hundred of them assembled at the DSWD Field Office 01 to air their concerns on assistance due for the Typhoon Lawin victims.
Few days after the first rally held on 05 January 2017, DSWD has validated and released cash assistance to qualified beneficiaries by distributing food packs and tapping concerned agencies on agricultural needs.
In commemoration of the 100th day of experiencing Typhoon Lawin's wrath by Ilocos residents especially farmers and fisherfolks, these leaders openly expressed their gratitude to the Management along with other felt needs such as their agricultural crops and facilities that were either washed out or destroyed along with their houses.
"We were not remiss with our initial agreements; I already discussed the matter with Sec. Judy Taguiwalo. Submitted names were validated, and agricultural concerns were referred to the proper Agency," Director Castillo affirmed the group.
Asst. Regional Director for Operations Marlene Febes D. Peralta was also present during the dialogue; she replied to queries on the Pantawid Pamilyang Pilipino Program and on other programs/services that could be of help to the immediate needs of these rallyists.
In closing, the group sincerely thankedthe DSWD management for the services provided and the immediate action on their concerns. "Ti DSWD ti ka-approachable lan nga agency nga makaawat kadagiti problema mi ken alisto a mangiyeg serbisyo kadagiti agkasapulan (DSWD is the most approachable Agency that can promptly accord service to those in need)," Ka Toni commented. (by: Iryn D. Cubangbang, Information Officer II ).