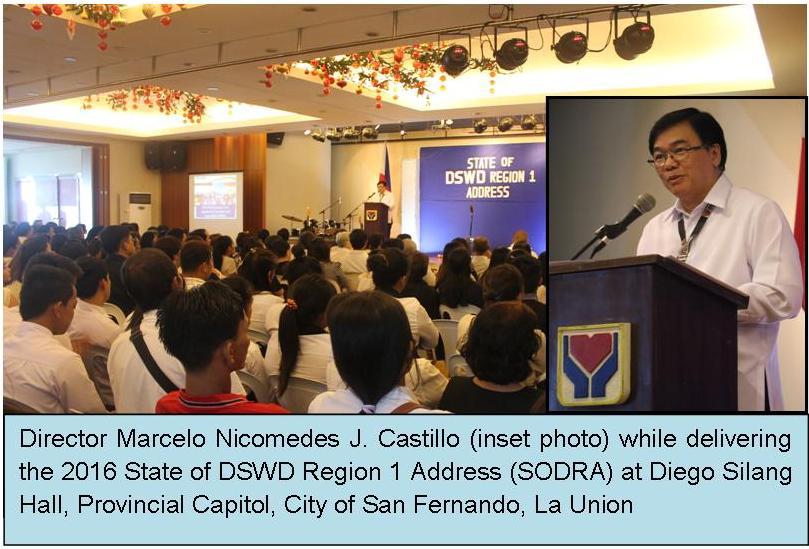 Vibrant results of converged expertise and resources on social protection were reported by Director Marcelo Nicomedes J. Castillo to partners and DSWD FO1 staff during the SODRA at Diego Silang Hall, Provincial Capitol, City of San Fernando, La Union.
The SODRA speaks of 2016 salient program results. As said "Pasasalamat, pagbubunyi, at pagpapalakas sa bawat kasapi ng tagumpay ang kabuuan ng SODRA (Gratitude, rejoicing, and strengthening of every working hand that contributed to the general success summarizes the SODRA)."
The second database of poor household revealed 109,573 or 53.58% of the Pantawid Pamilya beneficiaries are already non-poor. With this, Director Castillo recognized converged efforts which contributed to the improved condition of poor families.
With 218 civil society organization-partners in the Pantawid Pamilyang Pilipino Program, it has 199,861 active beneficiaries, 22,983 of them have bio-intensive gardening, and 1,923 parents groups have communal garden.
Deserving but poor 2,503 Pantawid Pamilya beneficiaries benefitted from the Expanded Students' Grants-in-Aid for Poverty Alleviation (ESGP-PA), which has produced 230 graduates, of whom 8 cum laude, 4 distinction awardees, 53 LET passers, 2 electrical engineers, 2 mechanical engineers, 1 agricultural engineer, and 1 civil engineer.
The Sustainable Livelihood Program helped 18,345 individuals access employment through microenterprise development and employment facilitation with the support of 79 private and public institutions.
On people and community empowerment, the Kalahi-CIDSS assisted 16,129 households in community empowerment activities in the 11 municipalities covered. They were involved in analyzing and prioritizing their needs, project proposal development, procurement activities in the implementation of subprojects. These subprojects include installation of water system, concreting of road networks, barangay health stations, among other felt needs in the communities.
The Bottom Up Budgeting Projects continue to receive appreciation from local counterparts with successful projects installed such as Evacuation Centers, Child Development Centers, Crisis Centers, Bahay Pag-Asa for children, among others. This year, DSWD sponsored projects amounting to Php 207.5 million.
The Convergence Strategy orchestrated a seamless implementation of core poverty reduction programs with the in-place social case management of beneficiaries that included the participation of beneficiary in identifying proper interventions with the Municipal/City/Provincial Action Teams.
There were 182 abandoned, surrendered, and neglected children served through the Child Placement Section, of whom, 136 were placed under foster care and 46 under adoption.
Banner programs continue to assist sectoral groups. The Supplementary Feeding Program assisted 105,972 Day Care Children with Php 190.7 million. Also, the Social Pension Program's 85,185 social pensioners received a total of Php 511.1 million stipend.
For the victims of disasters, Php25.9 million worth of relief assistance was given to families affected by Typhoon Lawin which was the most disastrous this year. The Emergency Shelter Cash Assistance Program (ESCAP) provided Php5,000 each to 19,999 families with a total of Php95 million.
On community-based services, 290 drug surrenderers were engaged in Cash for Work activities and continuous advocacy is done on the role of DSWD in the Aftercare, Reintegration, and Transformation services to this group.
Likewise, continuous provision of assistance is given to Overseas Filipino Workers affected by economic crisis in Middle East countries.
The Centers and Institution continue to provide rehabilitation, protection, and temporary shelter to various clients: Home for Girls – 60, Regional Rehabilitation Center for Youth – 108, Haven for Women – 78, Haven for Children – 46, and Area 1 Vocational Rehabilitation Center – 120, of whom 59 were job placed.
Two Social Technology Projects were piloted in Region 1 – the Reporting System and Prevention Program for Elder Abuse Cases (ReSPPEC) in San Carlos City and Strengthening and Empowerment of OFW Families Towards Family Preservation implemented in the City of San Fernando and Naguilian, both in La Union.
Non-government organizations in the Area-based Standards Network (ABSNET) were also mentioned for their participation to the assessment of 21 Local Social Welfare and Development Offices (LSWDOs) using the MC 16 tool.
Commitments to the attached agencies were also firmed up. Regional Committee for the Welfare of Children (RCWC) spearheaded the 1 Million Lapis campaign which collected a total of 120,000 pencils to be given to the less fortunate children.
Also, RCWC helped in the documentation of the national awardee for Child-Friendly Municipalities and Cities – Dumalneg, Ilocos Norte.
On persons with disabilities (PWDs) sector, the popularization of Republic Act 10070 – An Act Establishing Mechanisms to Ensure Implementation of Programs and Services for the PWDs – is done to include the recent Republic Act 10754, An Act Expanding the Benefits and Privileges of PWDs.
Moreover, the Regional Juvenile Justice and Welfare Committee (RJJWC) provided technical inputs to LGUs on the development of Local Juvenile Intervention Programs which are needed in the institutionalization of programs for Children At Risk and Children In Conflict with the Law.
Output from the support services in the General Administration and Support Services Division and other units/sections were also mentioned, which are equally important in the total operations of the Agency.
"All these program results proved once more our oneness in Region 1," said Dir. Castillo. "We sustained our compassion, efficiency, and display of professionalism in all our official transactions," he further exhorted. (by: Iryn D. Cubangbang, Information Officer II)