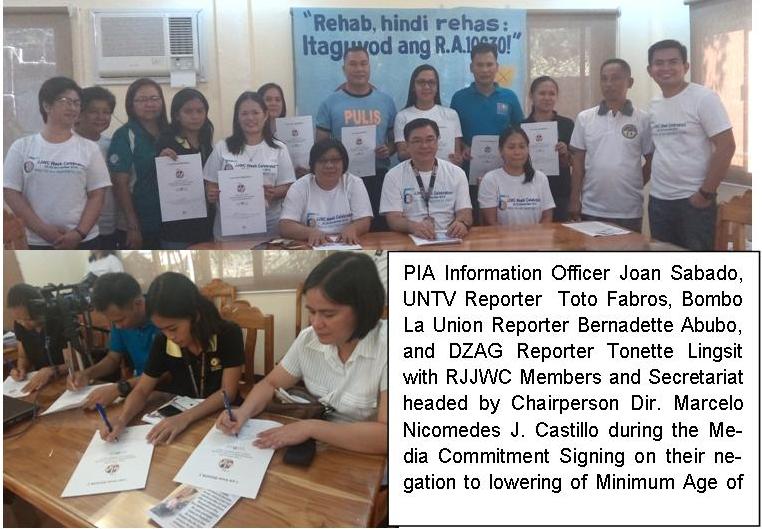 Together with La Union media, the  Regional Juvenile Justice and Welfare Committee  (RJJWC) 1 firmly expressed its negation on the Lowering of Minimum Age for Criminal Responsibility (MACR) on the recently held media forum.
Preventive measures and after care services are not only included in the Comprehensive Local Juvenile Implementation Plans of the Local Government Units (LGUs) but also among the strategies to reinforce  Barangay Councils  for the Protection of Children.
The RJJWC Chairperson, Director Marcelo Nicomedes J. Castillo, asked for everyone's full support in pushing for the activation of Barangay Council for the Protection of Children (BCPC). Director Castillo quoted Secretary Taguiwalo on children in conflict with the law needing proper care and that  they should not be put in jails where they are exposed to abuses and influence of hardened criminals. In a statement issued, the Secretary said that lowering the minimum age of criminal responsibility has never resulted to lower crime rates.
With the help of media interventions, this advocacy got the support of the Philippine Information Agency, DZSO- Bombo Radyo La Union, DZAG- Radyo ng Bayan, and UNTV.
Also, the Philippine National Police representatives reaffirmed that children should not be in jail. Aside from the congested situation in jail, their inevitable existence in jails is responded by their maximized efforts to fast track release of these minors.
On minors incarcerated, Atty. Yolanda Salanga of the Commission on Human Rights shared how they follow up CICL cases for speedy trial. (by: Iryn D. Cubangbang, Information Officer II).