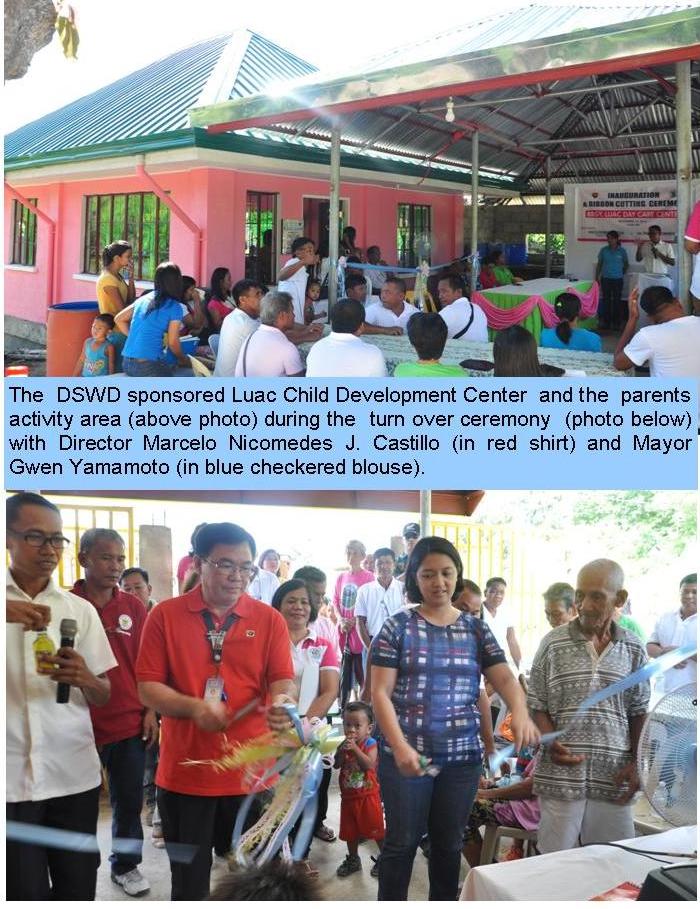 No more learning sessions in small and crowded spaces in Bani, Pangasinan as four additional Child Development Centers (former Day Care Centers) were turned over by Director Marcelo Nicomedes J. Castillo through the Bottom-up Budgeting (BUB).
Also, a Php1M check for instructional materials was turned over to complement the learning needs of the children.
"These are visible results of DSWD's effective implementation of BUB projects," said Mayor Gwen Yamamoto. She expressed her sincere thanks to Director Castillo.
"A child should not wait," Director Castillo, a former Child Development Center assessor, said as he emphasized the prioritized services due for the children which is also preparing for the needs of the next generation children.
"Identified inconvenient situations in the local communities are responded to- like these children who used to attend learning sessions done in small spaces in the Barangay Halls and auditorium stage."
In Brgy. Luac, the Child Development Center was built with the Php100,000.00 counterpart of LGU-Bani and a 28-square-meter lot donated by the Rosete Family.
Gratitude and appreciation of the realized project was mentioned by Brgy. Captain Gilbert Arizo as he pledged to monitor the proper care of the building so that even the unborn children can still use this as their learning center.
It was also mentioned that these projects in Bani, Pangasinan were also made possible with the support of Congressman Conrad Estrella III. (by: Iryn D. Cubangbang, Information Officer II)