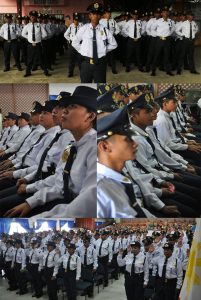 Salute!
The Security Guard trainees from the Pre-Licensing Training Course on Security Guard of the Sustainable Livelihood Program (SLP) of the Department of Social Welfare and Development – Field Office 1 (DSWD-FO 1) will soon acquire an employment for a stable source of income.
A total of 229 participants graduated recently in the Employment Facilitation-Skills Project of SLP on Security Guards. Out of the 229 participants, 163 are from the Province of Ilocos Norte (IN) and 66 are from the Province of Ilocos Sur (IS).
According to SLP Provincial Coordinator (PC) of IN Anna Mae C. Palaroan, the 163 participants will soon be hired within this year by VNV Security Agency in San Nicolas, IN and in JTC Mall, Batac City, IN.
Further, SLP PC of IS Efren R. Rafanan informed that the three (3) participants from the 66 Security Guards who graduated in IS are already employed while the remaining 63 graduates will eventually be employed in coordination of the SLP with the partner-agency Premiere Security Personnel Training Academy, Inc.
Meanwhile, in an interview before the graduation ceremony of the IN Security Guard trainees, solo-parent (with three children) Gemma C. Gabu expressed her joy in being one of the Security Guard trainees, "Arapaap kon sipud pay idi nga agbalin a security guard. Ginundawayak daytoy a panagsanay para kadagiti padak a marigrigat ken benepisyaryo iti Pantawid Pamilyang Pilipino Program gapu ta umap-apalak kadagiti makitkitak a security guard idi. Sapay la kuma ta makastrekak to ti trabaho tapno dakdakkel ti sweldok para maited ko a naan-anay dagiti pagkasapulan dagiti annakko (It has always been my dream to be a security guard. I grabbed this opportunity together with other underprivileged like me and beneficiary of Pantawid Pamilyang Pilipino Program because even before I already envy those who work as security guard. Hopefully I will get to work as a security guard for a higher salary so I can sufficiently provide the needs of my children)."
Like Security Guard Gabu of Batac City, IN, Jhon Karlou C. Agoyaoy of Sta.Maria, IS also professed his gratefulness on the knowledge and skills that he learned in the training. Agoyaoy, the top-notcher of IS Security Guard graduates optimistically said, "Kinayat ko nga agsanay ti security guard ta barbareng nu mapagasatannak ti nasaysayaat a puesto ken mapermanente ak (I desired to train as security guard hoping that I can land on a permanent job.)"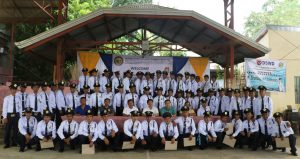 The said graduation rites in IN and IS were both attended by DSWD-FO 1 Regional Director Marcelo Nicomedes J. Castillo to personally salute all the graduates and provide an inspirational message. In his message, he emphasized the roles and responsibilities of being a security guard. "Isang noble po na profession ang inyong pinili na maging security guard dahil kayo ang mangangalaga ng buhay at kagamitan sa isang ahensiya o sa isang pamayanan (The training that you underwent is as a security guard which is a noble profession who will protect the life and equipment in an agency or community)," Dir. Castillo said.
Dir. Castillo then ended his speech by reminding all the trainees to give importance to the conducted training under Employment Facilitation-Skills Project of SLP on Security Guards and he even encouraged all the trainees to continue helping and supporting each other. On the other hand, the Department will also continue assisting them (the beneficiaries of DSWD programs) in other ways. (by: Jaymante Pearl B. Apilado, Administrative Assistant III, NHTS-PR/Listahanan)