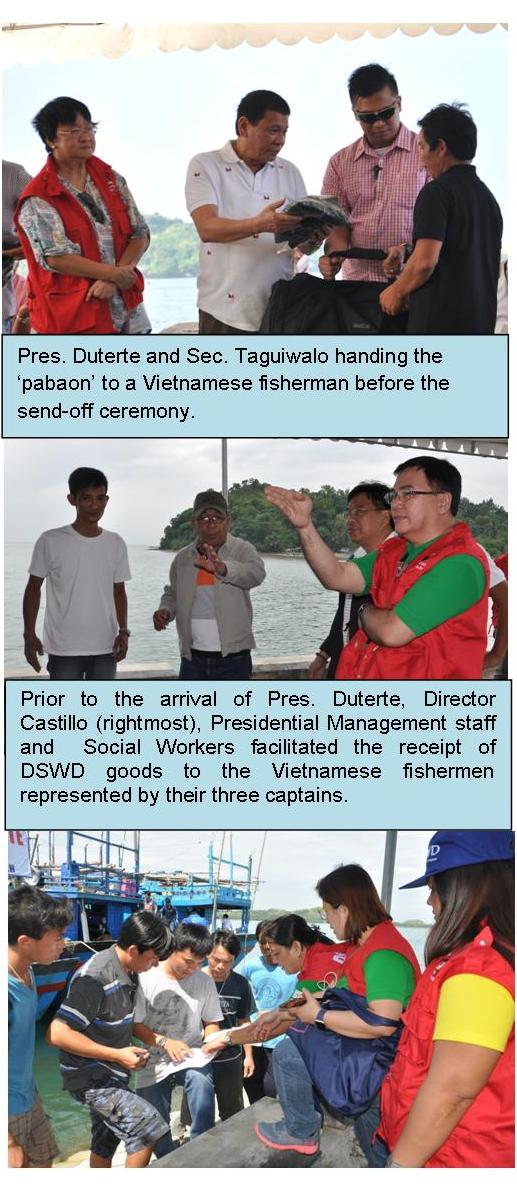 In Sual, Pangasinan, DSWD assisted the 17 Vietnamese fishermen whose send-off ceremony was led by Pres. Rodrigo Roa Duterte.
The completeness of the 'pabaon' or tokens was led by Dir. Marcelo Nicomedes J. Castillo which included hygiene kits sourced out from Department of Health Region 1. The 'pabaon' handed over included three sacks of rice, packs of bottled water, boxes of cup noodles, instant coffee,cooking oil, 'malong', jackets, and hygiene kits.
During the psychosocial processing (PSP) done by Field Office 1 Social Workers, through the help of an interpreter, the fishermen mentioned their extreme emotions to go back to their own country, grateful of the help from President Duterte for giving back their freedom, and all of the help are more than enough.
As mentioned, the psychosocial processing had at least relieved the fishermen's tensions and longing for their families since they had been held for more than a month already.
Aside from President Duterte's esteemed act to sustain diplomacy and alliance with Vietnam, Secretary Judy Taguiwalo complemented by affirming that this friendship hopes that our two governments can continue to work together in harmony in the name of unity, diplomacy, and solidarity.
As Secretary Taguiwalo expressed in her message, "Let us always exercise compassion even as we implement our laws; let us stand united as members of ASEAN, as Asians, and peoples of sovereign countries. We deal with each other on the principles of mutual respect, mutual benefit, and non interference in our internal affairs." (by: Iryn D. Cubangbang, Information Officer II)