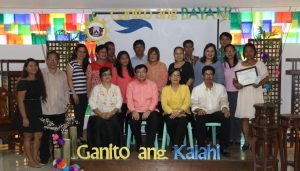 "Kayo ang buhay na simbolo ng kadakilaan at walang pag-iimbot na pagmamahal at malasakit sa ating bayan (You are the living symbol of greatness and selfless love and concern for our country)," said DSWD Regional Director Marcelo Nicomedes J. Castillo in his message during the 2016 BAYANi KA! Awards.
The BAYANi KA! Awards is intended for the Kapit-Bisig Laban sa Kahirapan-Comprehensive and Integrated Delivery of Social Services (Kalahi-CIDSS) program of the Department of Social Welfare and Development (DSWD) to acknowledge the hard work being put by the local everyday heroes in their own communities ("BAYAN") before their own selves ("i"). They are the new generation of champions who will help in the advocacy of making Community-Driven Development (CDD) a reality.

The nominations from the 11 Kalahi-CIDSS municipalities in Region 1 were carefully assessed by a Technical Working Group (TWG) to ensure that the winners are worthy to be called BAYANi. The TWG is comprised of  Ms. Joan Sabado of Philippine Information Agency, Ms. Hope Ordoño of the Department of the Interior and Local Government, Ms. Charity Frianeza of DZAG-Agoo, and Ms. Iryn Cubangbang of the DSWD. The nominees were rated according to their ability to influence people to be advocates of CDD, their selflessness in serving their communities, and their valuable contributions in the categories they were nominated.
This year's BAYANi KA! Awardees for the BAYANi category are Mr. George Danglipen for his efforts to improve local governance in Brgy. Sapdaan, Santol, La Union; Mr. Felix Dengaey for his fight to protect the environment in his beloved village in Brgy. Lamag, Quirino, Ilocos Sur; Mr. Ernesto Estira for ensuring peace and order in Brgy. Suyo, Bagulin, La Union; Ms. Crestie Navida for promoting gender equality in Brgy. San Miguel, Burgos, Pangasinan; Mr. Jun Balas in ensuring that the Indigenous Peoples of Brgy. Tio-angan, Bagulin, La Union are heard and included in decision-making and implementation; and Ms. Remedios Candid of Brgy. Cambaly, Bagulin, La Union for serving her ka-barangays despite her physical incapability.
The Local Government Unit of the Municipality of Bagulin also bagged the BAYAN – Municipality category for its policies supporting the Kalahi-CIDSS implementation and the drive for institutionalizing CDD while Brgy. Ramot, Santol, La Union topped the BAYAN – Barangay category. The Ilocos Sur Federation for Barangay Water and Sanitation Association brought home the BAYANIHAN award.
The winners will represent Kalahi-CIDSS Region 1 in the 2016 National BAYANi KA! Awards. (by Helen Veryan C. Valdez, Social Marketing Officer, KC-NCDDP)