To augment the needs of cities and municipalities affected by Typhoon Lawin, DSWD has released Php 17.6 million worth of relief goods in coordination with Regional/Provincial/Municipal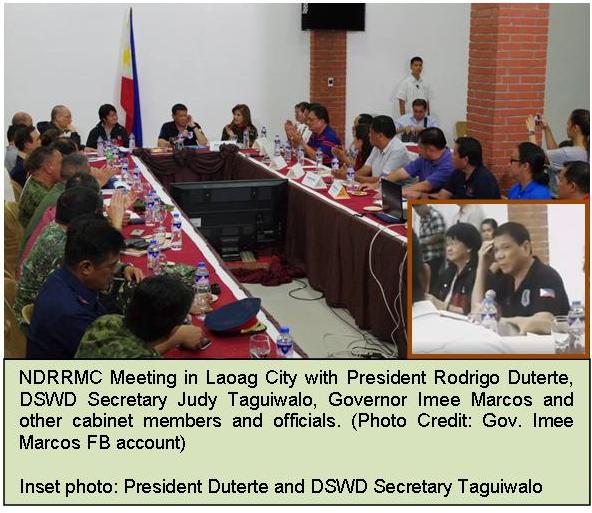 /City Disaster Risk Reduction and Management Councils.
The visit of President Rodrigo Duterte and Secretary Judy Taguiwalo in Laoag City yesterday (23 October) highlighted the immediate response,nurturing hands of the government, and fair appropriation of resources at hand.
"Validation of the list of affected families and project proposal preparations in coordination with Local Government Units (LGUs) are currently being undertaken," said DSWD FO1 Director Marcelo Nicomedes J. Castillo.
These are needed to facilitate the recovery programs such as Emergency Shelter Assistance, Core Shelter Assistance Program, Food/Cash for Work and the like.
To note, DSWD National Resource Operations Center (NROC) downloaded 40,000 family food packs and other non-food items during the height of disaster operations forwarded to satellite warehouses in Sta. Barbara, Rosales and Alaminos City in Pangasinan; Santa, Ilocos Sur; and Laoag City, Ilocos Norte for easier access to LGUs.
Prior to the onslaught of the typhoon, Director Castillo assured the availability of goods and readiness of response teams in the Provincial Operations Offices (POO).
To date (24 October 2016), DSWD FO1 monitored 52,840 families or 266,218 persons affected in 989 barangays, leaving 12,423 partially- and 1,036 totally-damaged houses. (by: Iryn D. Cubangbang, Information Officer II)