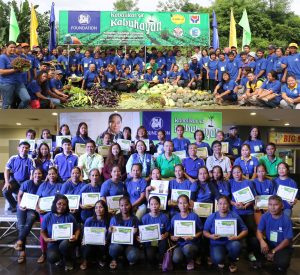 Partnership between the private sector (SM Foundation Inc. and Harbest Agribusiness Corp.) and government agencies (Department of Social Welfare and Development – Field Office 1 and Department of Agriculture – Regional Field Unit 1) for a farmers training program on sustainable livelihood called "Kabalikat sa Kabuhayan" transpired recently in San Fabian, Pangasinan.
Funded by SM Foundation, Inc., the 12- week farmers training program taught 115 participants of whom 44 are Pantawid Pamilya beneficiaries, the new technologies of organic farming through the trainers of Harbest Agribusiness Corp. and DA-RFU 1 that shortened the three months traditional timetable of planting and harvesting vegetables.
"Dakami a nagsanay, kalpasan ti dua a bulan lang a panagmula ti natnateng ket nagapit kamin, isu nga nasayaat ta adu ti teknolohiya a naadal mi (After two months, we already harvested the vegetables that we planted so it is really an advantage that we have learned various technologies)", said Josephine O. Linda, a Pantawid Pamilya Parent Leader.
The organic farming livelihood training attended by Pantawid Pamilya beneficiaries, organized by Project Development Officer II Riziel Ann N. Carpio of the Sustainable Livelihood Program (SLP) of DSWD-FO 1, can provide a sustainable source of food and income right from their own backyard or farm.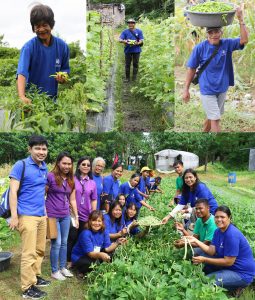 According to Angelita A. Malong, a Pantawid Pamilya beneficiary, she will use the new technologies of organic farming in her own garden and will even share it to her relatives, other Pantawid Pamilya beneficiaries, and her neighbors as well­­­. "Nagdakkel ti naitulong na kaniak daytoy a panagsanay iti organic farming ta dagiti abono ken insect repellants a mausar ti panagmula ket maala tayo lang gayam ti arubayan tayo ken kasta met a masalakniban tayo pay ti aglawlaw (gapu ti kemikal nga abono). Babaen dagitoy a kabarbaro a teknolohiya, makissayan ti gastos ti panaggatang ti abono ken ad-adu pay ti maapit (The training on organic farming is so helpful because the fertilizers and insect repellants that are needed in planting can be acquired in our own backyard and at the same time we can even protect our environment from harmful chemicals brought by non-organic fertilizers. Because of the new technologies that we have learned, our expenses in buying fertilizers can be reduced and we can even harvest more)," added Malong.
SM Foundation Inc. has always been a partner of DSWD-FO 1 in their livelihood and outreach programs. Ms. Cristie S. Angeles, Assistant Vice President of SM Foundation, Inc., believes that members of the private sector like SM Foundation, Inc. partnering with government organizations like DSWD will really make a difference on the output of the program. She said: "May kanya-kanya kasing expertise ang bawat isa kaya kapag pinagsama-sama mo ang lakas ng bawat isa, nagiging dynamic ang isang proyekto (We have our own expertise so if we combine our skills then a project is going to be dynamic)."
Meanwhile, SLP proposed a starter kit amounting to Php 400,000.00 to be given to the San Fabian Organic Farmers and Fisherfolks Association (SOFFA) of the 44 Pantawid Pamilya beneficiaries.
SLP Community Driven Enterprise Development Officer (CDEDO) Ardel Laroya said in an interview that the starter kit will be spent in buying seeds from Harbest Agribusiness Corp. so that the Pantawid Pamilya beneficiaries who completed the training can already start applying their knowledge on organic farming in their own backyard or humble farm. (by: Jaymante Pearl B. Apilado, Administrative Assistant III, NHTS-PR/Listahanan)