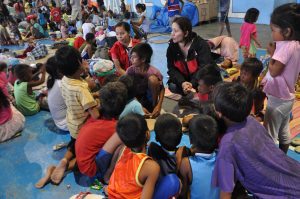 "Continuous repacking of family food packs at the regional warehouse with volunteers, uniformed men and staff will meet the requests of affected Local Government Units (LGUs) by Typhoon Lawin in the four provinces", said Director Marcelo Nicomedes J. Castillo.
Family food packs (FFPs) still consist 6 kilos rice, 4 tins sardines, 4 tins corned beef, and 6 sachets of coffee which can serve a family of 5 members for two days.
2,000 FFPs were given to fisherfolks in Bolinao, Pangasinan; another 4,000 will be released tomorrow (21 October) from the second tranche augmentation from DSWD-Central Office. These fisherfolks had not been fishing in the last five days since Typhoon Karen also affected Western Pangasinan; their families are in dire need of basic necessities. Also, 3,000 FFPs will be hauled by the City Government of Dagupan for affected families.
Moreover, Asst. Regional Director for Operations Marlene Febes D. Peralta led the distribution of 250 FFPs to evacuees temporarily staying at the Aringay Amphitheater due to the onslaught of Typhoon Lawin.
Delia Bautista, 41, widow with 6 children, is among the grateful recipients of the family food packs/ relief goods in Aringay, La Union.  She is among those residents along the coastal area who feared possible storm surge because of "Lawin".
During this visit at the evacuation center, evacuees were also checked on their health condition and safety of children while they are momentarily in refuge. Short simple groupings were conducted by Nutritionist/Dietitian Alma Gonzales and Social Workers Maricel Caleja and Ryleen Gadong.
As of 20 October 2016, 12:30 PM, there are 3,391 families affected or 12,299 persons affected in 163 barangays of Region 1. There are 106 evacuation centers with 3,320 families or 12,012 persons temporarily displaced. (by: Iryn D. CUbangbang, Information Officer II)