"Food and non-food items stocked at the regional warehouse and 12 satellite warehouses strategically positioned in the provinces are intact and ready for any eventuality," Director Marcelo Nicomedes J. Castillo said.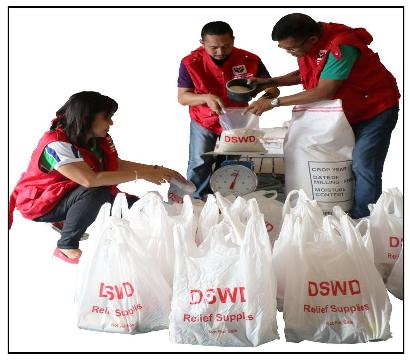 With the Php26.9M, there are 28,728 family food packs (FFPs) amounting to Php9.8 million, non-food items worth Php14.8 million, and Php2.2 million standby funds ready to augment the relief needs that may be requested by Local Government Units .
Yesterday, (19 October 2016), 1,000 FFPs were delivered each to Solsona, Ilocos Norte; Caoayan, Ilocos Sur; and Rosales, Pangasinan as prepositioned goods in these flood prone municipalities.
DSWD National Relief Operations Center (NROC) transported additional 5,000 FFPs to the satellite warehouse in Rosales, Pangasinan in anticipation to the flooding that may be caused by the spillover of San Roque Dam and another 5,000 FFPs to Ilocos Norte Provincial Operations Office (POO).
DSWD, being the Vice-chairman on Response Cluster, is now receiving relief augmentation requests and coordinates with the satellite warehouses to release the needed relief particularly in Bolinao, Pangasinan with 2,000 FFPs for fisherfolks.  (by: Iryn D. Cubangbang, Information Officer II)