One hundred (100) left behind family members of Overseas Filipino Workers (OFWs) are now attending series of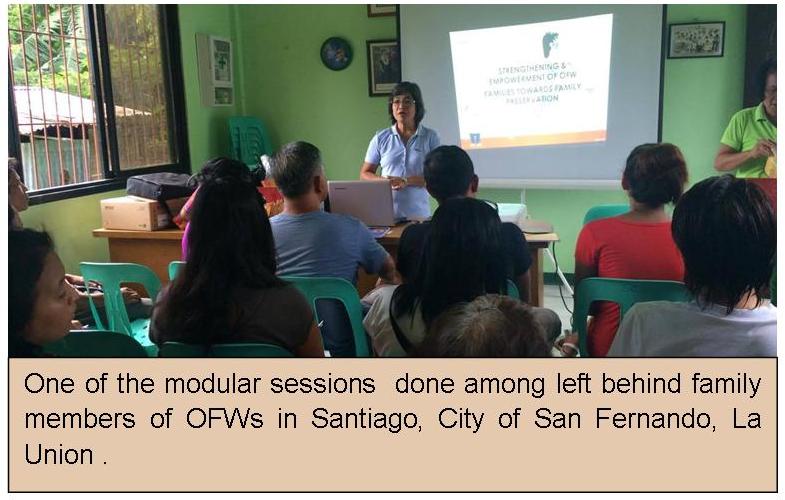 sessions to eventually improve their coping mechanisms and resiliency while loved ones are working abroad.
These modular sessions include social costs of migration, financial management, and addressing family issues conducted by OFW facilitators.
Also included in the package of programs are family case management, capability building, coordination and networking, school-based services, and information and education campaigns.
Implemented only in three regions in the entire country, this social technology project dubbed as Strengthening and Empowerment of OFW families Towards Family Preservation was launched recently at Sea and Sky Hotel and Restaurant, City of San Fernando, La Union.
Families come from Barangays Santiago Sur and Parian in the City of San Fernando, Lidoc Sur and Al-alinao Norte in Nagulian, La Union.
During the project launching, Director Marcelo Nicomedes J. Castillo mentioned that this is a timely and relevant project for it will create support systems for the left behind family members. The reality according to Dir. Castillo is that "OFWs work abroad for their families but the irony is their families are also put at stake".
With the support of valued partners, Director Castillo is optimistic on the results of this project.
"Our government cares for their needs in various situations creating a community of families helping each other," Director Castillo said. "Tatakbo nang mabuti ang programa, mula sa masa para sa masa, mula sa pamilya para sa pamilya (The program will run efficiently from the people themselves to people in need, from families to families)," Director Castillo further mentioned.
Social Technology Bureau (STB) Director Thelsa P. Biolena graced the Memorandum of Agreement (MOA) Signing with partners agencies and Local Government Units.
Director Biolena shared how the current administration also gives priority to respond to the needs of OFWs particularly those repatriated needing reintegration program and other protective measures.
"Through the project, sessions are conducted for the family members especially the children left behind to understand the reasons for leaving abroad, and eventually process within themselves the pros and cons and other dilemma along the way," Director Biolena further said. (by: Iryn D. Cubangbang, Information Officer II)