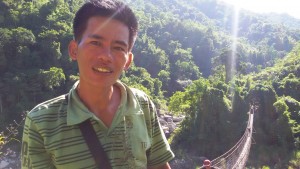 It takes guts, willpower, and stamina to walk for eight hours to reach Tio-angan, the farthest barangay in Bagulin, La Union but the unyielding passion of a volunteer is tougher than the obstacles along the way.
Jun Balas, upon the introduction of Kalahi-CIDSS, understood that the Program demands active and full participation of every resident in their barangay. He was ecstatic and hopeful that the Program will help equip the residents of the far-flung sitios with knowledge denied to them by poverty.
Manong Jun never fails to attend Barangay Assemblies to ensure that all issues and concerns are properly handled. He even donates his farm animals for food during community gatherings.
The dangerous terrain caused some volunteers to be apprehensive to show up on barangay activities, but Manong Jun patiently encourages his neighbors to exercise their right to decide on the proper steps to counter poverty.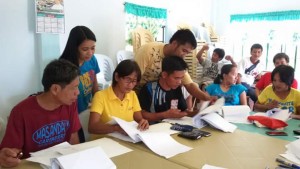 Manong Jun was elected as the Barangay Subproject Management Committee Chairperson to lead the implementation of their prioritized subroject ̶ a 1,000 linear meter barangay road.  Without hesitation, he accepted the responsibility and did his best to fulfill all his functions.
Manong Jun strives to wake up at 4 o'clock in the morning to process and complete all the necessary requirements to finish their barangay road.  He even sacrificed his limited income to support his transportation costs and meals during the processing of documents.
On the onslaught of heavy rain, the water level of the Nagsabaran River rose, making it impossible to cross. The delivery of materials to the construction site was hampered for many days.
But the storm cannot stop Manong Jun and his desire to finish the road that would pave the way to their aspirations, their hope for progress.
As soon as the rain ceased, the Bayanihan spirit ignited as he knocked on every door and called all his neighbors to start manually hauling the sacks of cement onto the project site.
Finishing the barangay road was not an easy task, but Manong Jun's commitment and leadership made it possible.
"Adu iti mangbatbatikos kinyak gapu dita subproject ngem dik ingkaskaso ta kayat ko iti makatulong iti komyunidad (Many people criticized me but I did not care, all I want is to help my community)", he said. (by Julie Ann H. Rabot, Area Coordinator, and Helen Veryan C. Valdez, Social Marketing Officer, KC-NCDDP)