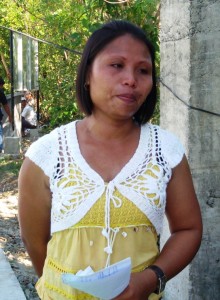 With a small flashlight as a weapon, Crestie L. Navida braves every dark night to lead her ka-barangays in every Kalahi-CIDSS activity into realizing their dreams.
Ate Crestie, as fondly called by her ka-barangays in San Miguel, Burgos, Pangasinan, is a true-blue Bayani who does not care much about her safety as long as she could lead the Barangay Subproject Management Committee in the implementation of Kalahi-CIDSS.
Ate Crestie is a full-blooded Bisaya but that did not stop her from uniting with the Pangasinan locals. At first, the people did not want to listen to her, they often ignored her for not being able to understand Iluko and Pangasinan languages. But through it all, she earned the respect of her colleagues when she showed her immeasurable passion to help for the progress of her barangay.
As the BSPMC Chairperson, she attends every Kalahi-CIDSS activity even if it includes walking for an hour at night to reach the Barangay Hall, only with the help of a small flashlight she got for free when she bought a handy lighter.
She performs her functions willingly without condition. She sees to it that the committee's roles and responsibilities are being done appropriately. Whenever her co-volunteers commit lapses on implementing the process of the Program, she never hesitates to correct them or give proper instruction. Ate Crestie also monitors the work performance of the laborers to attain their target on time.
With her strong and diligent leadership, San Miguel was the first barangay in Region 1 to finish their subproject ̶ a 398-linear meter road.
Ate Crestie is known for being very strict especially about their finances, in effect, their record books and documents are properly filed and all suppliers were paid on time. San Miguel then created a very good working relationship with their suppliers.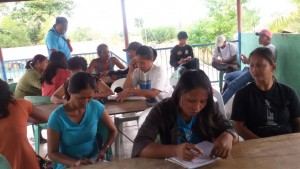 Ate Crestie never forsook her family even if her duties as a volunteer became heavier. She has a daughter she thoroughly teaches and encourages to maintain being the Top 2 in her class. She also makes sure she attends to their farm animals aside from helping her husband in the farm.
Ate Crestie is a strong woman her ka-barangays look up to, a caring mother to her family, and a Bayani to her community. (by Rozel Arig, Community Empowerment Facilitator, and Helen Veryan Valdez, Social Marketing Officer, KC-NCDDP)