DSWD,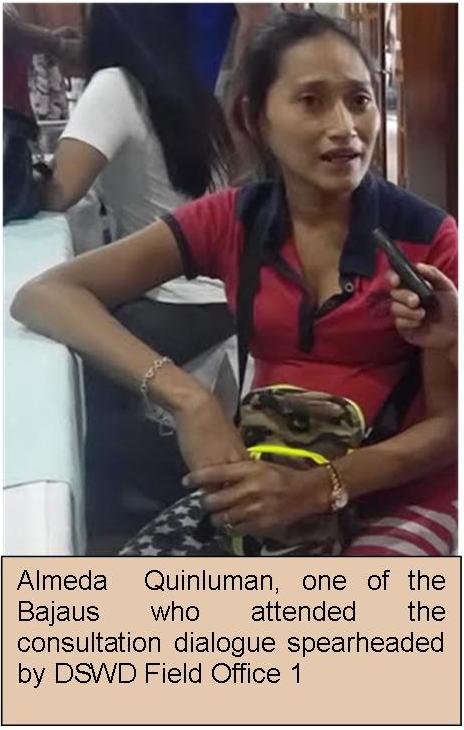 through the Regional Social Development Committee (RSDC) Sub-Committee on Social Protection, is considering various situations of Bajau families wandering in the cities of Region 1 for identification of proper and longer-term assistance.
Initially, Bajau communities in the City of San Fernando were reached out to establish linkage and benchmark on their well-being.
A consultation dialogue and focus group discussion with some Bajau families was held with representatives from the Cities of Laoag, Batac, Vigan, Candon, San Fernando, Alaminos, San Carlos, and Dagupan. Partner agencies were also present such as DILG, PNP RO1, CHR-1, NEDA-1, and NCIP.
This effort will collect responsive activities done by these concerned cities and agencies to improve the lives of these Bajau families living under vulnerable conditions.
Accordingly, the results of these early social preparations will become the basis for appropriate interventions and/ or help them establish a community with sustainable livelihoods.
As Director Marcelo Nicomedes J. Castillo posed a challenged to partner stakeholders, he also recognizes the complex social environment of Bajaus that require an open mind and responsive design of social protection program for them.
Hopeful  Bajaus like Jerry Biri, 39, from Zamboanga City, said  "Malaking pasalamat namin na may dadating  na tulong sa amin, para sa amin ang gagawin ng gobiyerno para gumanda ang buhay namin  (We are very grateful of this help for us to experience an improved life)."
Roaming the streets was never an easy situation. Such was what happened to Almeda Quinluman, 4-month pregnant Bajau who was teary-eyed as she recalled how they were driven away from their temporary shelters or even demolished without prior notice. "Sa awa ng Diyos masaya na kaming mga Bajau at may mga nakikinig na sa  amin na kagaya ng DSWD (With God's help, we are now happy since there are already those who attend to us like the DSWD)," said Quinluman. (by: Iryn D. Cubangbang, Information Officer II and Kim Dyan Calderon, PEO III)