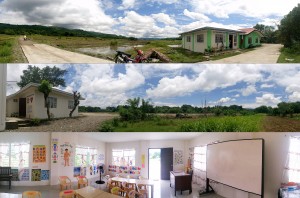 Five Child Development Centers (CDC), each costing Php 675,600.00, were built in Piddig, Ilocos Norte funded by the Bottom-Up Budgeting (BUB) of the Department of Social Welfare and Development – Field Office 1 (DSWD-FO 1) together with the Local Government Unit of Piddig, Ilocos Norte.
A total of Php 3,000,000.00 were financed by DSWD BUB for the CDC Projects while the counterpart of the Piddig LGU was worth Php 378,000.00.
The convergence between DSWD-FO 1 and the Piddig LGU plus the unwavering support from the barangay officials and the community workers strengthened the building of the five CDCs which are necessary facilities to prepare children for grade school.
"Napagasatan kami ta naikkan kami ti kastoy kasayaat a Center. Nailet ngamin tay dati idi. Tatta ket mas komportablen dagitay ubbing nga agadal, makaay-ayam da payen ken adda payen pagbuyaandan (We are lucky because we now have a better Center unlike the congested one before. Now, the children are more comfortable in studying. They can even play (inside the center) and watch TV)," said Kelly Ann Domingo, a parent of a day care child in Brgy. Maab-abaca, Piddig, Ilocos Norte.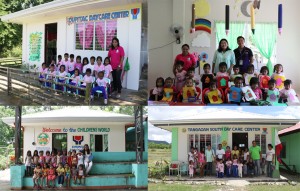 The five recipient barangays of CDCs headed by their Barangay Chairpersons are not just keen in supervising the construction of the center but they were also part of the working force just like Barangay Chairperson Medy Esteban of Brgy. Dupitac. "Nagsasaritaanmi nga agtitinnulong kami para ti masakbayan dagiti ubbing (We (barangay officials) discussed that we would work together for the future of the children)," Brgy. Chairperson Esteban said.
Meanwhile, BUB Engr. Jerrymiah Ranjo is proud that the CDCs conformed to the standards set by the DSWD and that they even employed five Pantawid Pamilya beneficiaries as part of the workforce in the construction of the five CDCs.
Richard Jose, a Pantawid Pamilya beneficiary and one of the construction workers of the CDC in Brgy. Maab-abaca, is also proud that he has been part of the CDC construction. "Gapu ta nag-obra ak ditoy ket addan tu ti pakakitkitaak. Idi napintaanen ket nakita mi nga napintas gayam ti inobra mi ta inaldaw ko nga itultulod ti anak ko (The CDC serves as a reminder of my efforts. We saw how lovely our work is after the CDC was painted because every day I bring my daughter to the CDC)," said Mr. Jose.(by: Jaymante Pearl B. Apilado, Administrative Assistant III, NHTS-PR/Listahanan)