Serving for the greater good of others may make a person a public servant. However, a public servant who goes beyond his call of duty can be considered a "BAYANI".
This is true with Punong Barangay Freddie B. Pecsoy, a simple man who chose to be forever single and devoted his time helping his fellowmen.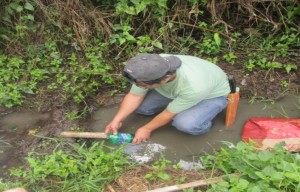 Kapitan Freddie has been serving as a leader in his community since 1995. Up to this time, he never ceases to look for opportunities to help the people of Lipay Este, San Gabriel, La Union because of his genuine passion to help.
His long record of leadership shows his unity with the community in its struggle to achieve its needs.
As the president of San Gabriel Youth Development Council, he organized a fellowship where the youth could freely voice out their needs.
As a Church Youth Leader and Vice President of Brotherhood of Saint Andrews, he conducted fellowship sessions to strengthen the devotion of youth to God.
He even sponsored the educational expenses of a high school student in the barangay.
Kapitan Freddie is never ashamed that he was only able to finish high school. In spite of his limited education, he extended his time and efforts to be of service to the community.  He is aware that his knowledge goes beyond what any school or university can impart, more than the book can teach.
He inspired people to make the best out of their lives, most importantly he continues to have great love and concern for his ka-barangays.
Kapitan Freddie was no stranger to poverty; at an early age he witnessed how it prevented the community to access even a source of clean and safe water, one they deem very important. This made him pursue being a community leader as his vocation in life.
When Kalahi-CIDSS was introduced, Kapitan Freddie was very excited; he did his part so that the Program implementation will be successful.
He ensured and maintained the community residents' spirit of unity through "Bayanihan" and shows good example by attending all the Program's activities. As a result, their proposed Water Supply System subproject was prioritized.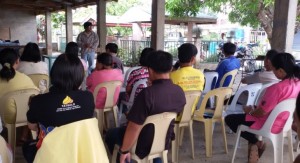 He integrated the Barangay Action Plan into their Barangay Development Plan because he strongly believes that the Participatory Situation Analysis workshop is an effective way of studying the actual situation of the community in order to see the problems that need immediate action.
He does not just lead the community by dictating all the things that they should do; instead, he also works during the subproject implementation.
Monetary compensation is not his priority because his mission is being always of service to his community.
"I did not expect any return when I involved myself in the project all I want is our community to benefit with long lasting projects that can help us all," he said.
He helped in empowering the community through teaching and inspiring them. He may have very little to give in terms of wealth, but his passion to empower others enabled him to give more than all the riches in the world.
Kapitan Freddie exemplifies leadership of the highest standards. Misfortunes do not threaten him; instead, they strengthen him towards accomplishing seemingly unachievable goals. (by Conrad Benitez, Community Empowerment Facilitator, and Helen Veryan Valdez, Social Marketing Officer, KC-NCDDP)