Promoting transparency and listening to the voice of the community ̶ this is the purpose of the Municipal Talakayan, an initiative of Kapit-bisig Laban sa Kahirapan Comprehensive and Integrated Delivery of Social Services National Community-Driven Development Program (Kalahi-CIDSS NCDDP).
The Municipal Talakayan aims to present the developmental plans, and to ensure that these plans will respond to the most urgent needs of the residents. It starts with an activity overview wherein the event mechanisms are presented and explained to the participants.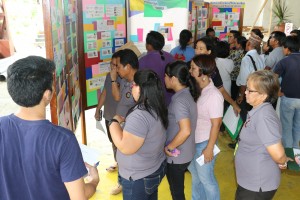 The Talakayan Gallery Walk presents all the awards and achievements of the Municipal LGU, including the year's development steps and plans.
One important display in the gallery is the result of a random survey conducted before the activity. The residents are asked about their most prioritized needs, a very significant data the Municipal LGU could use to plan for development programs and projects.
The highlight of the activity is the Focus Group Discussion wherein the plenary is divided into three groups ̶ the residents, the barangay chairpersons, and the Municipal Inter-Agency Committee members. Each is asked about their feelings and thoughts towards the content of the gallery to ensure that the proposed programs and projects of the LGU are suited to the most pressing concerns of the communities.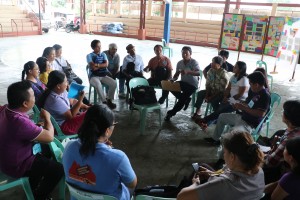 In the Municipality of San Gabriel, La Union, the Municipal Talakayan allowed the residents to air their concerns to the Local Government Unit. "Denggen dakami kuma iti munisipyo tapnu sigurado saan masayang iti pondo ken nu anya talaga iti kasapulan mi iti ited da (The LGU should listen to us to ensure that funds will not be wasted and they should give us what we really need)," Punong Barangay Freddie Pecsoy of Lipay Este said.
Kalahi-CIDSS stands by its principle that the people should have a voice, that they should be heard, that their needs should be given attention by the leaders.(by Helen Veryan Valdez, Social Marketing Officer, Kalahi-CIDSS NCDDP)