In the Province of Ilocos Norte, DSWD's BUB poured in Php54.8M worth of projects for the repair of 45 Child Development C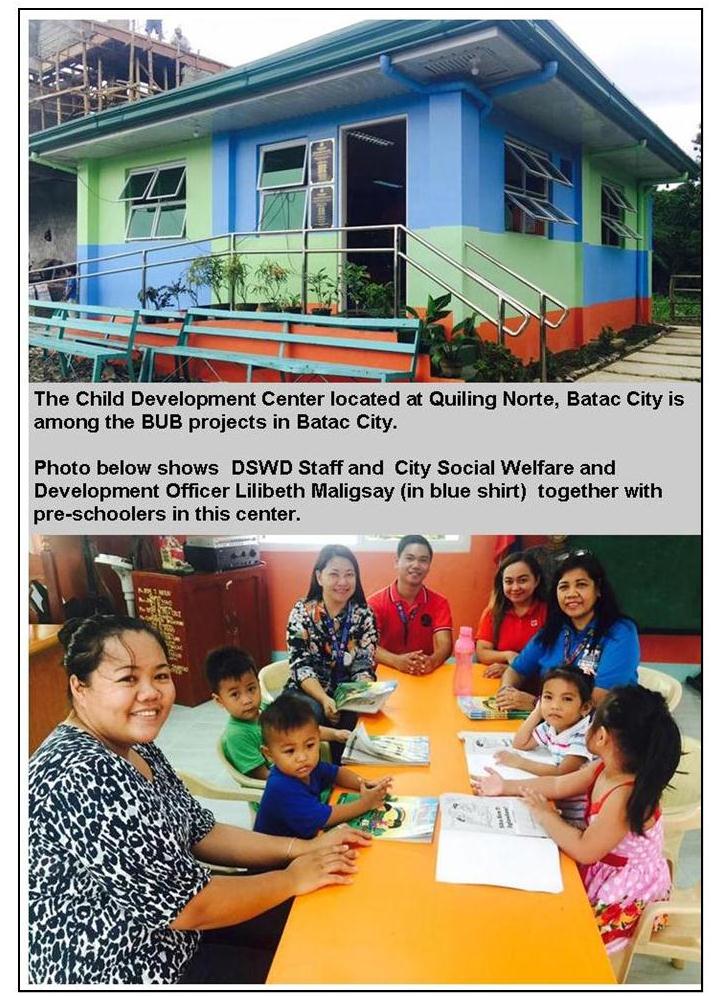 enters (CDCs) and construction of 20CDCs,  4 Women/Children Crisis Center,  2 Bahay Pag-asa, 12 handwashing facilities, a Barangay Health Center, and an Office of Persons with Disability Affairs (OPDA).
Bottom-Up Budgeting Projects encouraged synergized efforts in planning, budgeting, and monitoring of community folks with Civil Society Organizations promoting transparency and team work at the Local Government Units (LGUs).
In Currimao, the political will of local officials was so strong that they increased their counterpart and  strictly monitored the construction of the first  Php4M-worth Evacuation Center which will shelter families in time of typhoons, tsunamis, or any hazard posed to the coastal communities.
According to Currimao Mayor Rosario Go, this Evacuation Center also encouraged her to tap other source of funds, such as the Office of District 2 Representative Imelda R. Marcos, for the pavement of the  barangay road leading to the Evacuation Center.
In Batac City, the Php1.6M-worth Women/Children Crisis Center is a dream come true to City Social Welfare and Development Officer Lilibeth Maligsay who claimed to have recorded  a number of  women and children abuse in the City.  "With this, victims are assured of their  temporary shelter (either NGO or house of Social Worker) in times of difficult situations, the BUB was a timely response," said Mrs. Maligsay.
Also, the Php800,000.00-worth CDC was described as more convenient, conducive, and spacious for children to freely mingle and socialize with each other compared to their previous learning facility which is the old, corroding, and  flood-prone Multipurpose Hall.
According to parent Gary Gallardo, "Thank you iti  DSWD ta mas komportable ti pagyanan dagiti ubbing for their socialization (Thank you DSWD for the more comfortable learning facility for our children to better socialize with each other)."
The close coordination of Local Poverty Reduction Action Team with CSOs and monitoring of DSWD BUB staff, Engr. Jerrymiah Ranjo facilitated the successful implementation of the mentioned projects. Although projects were contracted, some  Pantawid Pamilya beneficiaries were also included among the hired workers. (by: Iryn D. Cubangbang, Information Officer II)