Clarita M. Legaspi or Auntie Claring, as fondly called by her neighbors, is a Barangay Health Worker and an advocate of community empowerment through Kalahi-CIDSS.
Auntie Claring pioneers the widespread of Community-Driven Development, the strategy used by the Program to strengthen the voice of the people.
Though she was not able to secure a post in the 2013 Barangay Elections, public service is still in her heart.
Auntie Claring actively supports and spearheads barangay activities including that of Kalahi-CIDSS; thus, her neighbors often call her "Kapitana".
During the election of community volunteers for cycle 1 and cycle 2, she offered herself to be one of the community volunteers with a goal to bring change in their community.
Though the proposed subprojects for both cycles will not directly benefit their sitio, she is still willing to accompany the Alilem Area Coordinating Team in conducting sitio assemblies and meetings.
She helps the ACT in facilitating the conduct of Kalahi-CIDSS activities and even rewards attentive participants.
Though their proposed subprojects were not prioritized, Auntie Claring still has a positive outlook in life and has committed to volunteer again for the next cycle of implementation.
She also continuously encourages the community residents to strengthen their support to the program despite not being prioritized and also persuades them not to be disappointed since they have helped in prioritizing other barangays that really need it most.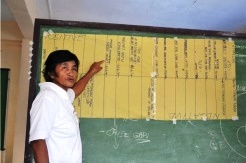 "An-anusak nga agvolvolunteer ken kumadkadwa kadagitoy taga Kalahi ta kayat ko met nga makatulong ken makita ti pagbaliwan na daytoy barangay tayo tapnu kasta adda met ti maibatik wennu pakalaglagipak uray nu awanak to ditoyen. Panunuten tayo nga daytoy ub-ubraen tayo ket haan lang nga para kanya tayo nu saan ket para iti masakbayan tayo, para kadagiti annak tayo (I am patiently volunteering to  accompany the Kalahi-CIDSS staff because I want to help, I want to see the changes in my barangay. At least, the people would remember me even if I die. Let's do this not just for ourselves, but for our future, for our children)."
Her selflessness is not only evident to her ka-barangays but also to her family.
Being single at 59, she is still taking care of her 98-year-old father and is rearing the son of her foster child.  Auntie Claring had fostered up until their college days two children, the daughter and the son of her best friend who died due to illness. Her foster children are now working abroad, one in Australia and one in Malaysia. One thing she is proud of.
Indeed, Auntie Claring is a Bayani in words and in deeds. (by Alilem Area Coordinating Team  and Helen Veryan Valdez, Social Marketing Officer, KC-NCDDP)