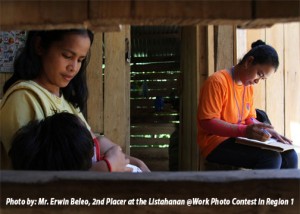 The National Household Targeting Unit (NHTU) / Listahanan of the Department of Social Welfare and Development – Field Office 1 (DSWD-FO1) will launch the 2015 Listahanan Database of Poor Households on 22 July 2016 in Laoag City Auditorium, Laoag City, Ilocos Norte.
Last year, Listahanan conducted the 2nd Round of Household Assessment where 881,443 households were assessed in Region 1 by the Enumerators, Area Supervisors, Area Coordinators, and NHTU Staff. Among the 881,443 assessed households, 165,235 households were identified as poor after the DSWD National Household Targeting Office (NHTO) ran the Proxy Means Test (PMT) on 29 February 2016.
PMT is a statistical model that approximates family's income based on observable and verifiable proxy indicators such as materials in housing structure, family's access to basic services and facilities like water and electricity, and ownership of specific assets, among others.
DSWD Undersecretary for Policy and Plans Group and National Household Targeting System for Poverty Reduction National Deputy Project Manager Florita R. Villar will be the Keynote Speaker.
DSWD-NCR Dir. Vincent Andrew T. Leyson, former Listahanan National Project Manager, will join Usec. Villar as presenter of the new PMT and other innovations in the 2nd Round of Household Assessment.
Further, DSWD-FO1 Dir. Marcelo Nicomedes J. Castillo will present the Listahanan Background and Regional Profile of the poor in Region 1.
Listahanan was established by the DSWD to target who and where the poor are. The comprehensive Listahanan database of poor households serves as basis for selecting beneficiaries for social protection programs and services in Region 1 and the entire Philippines. (by: Jaymante Pearl B. Apilado, Administrative Assistant III, NHTS-PR/Listahanan)