Far. Steep. Narrow. Slippery. Dangerous. These words are never enough to describe the path to reach Barangay Danac in Sugpon, Ilocos Sur.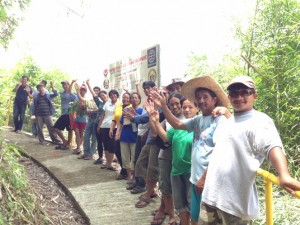 After a two-hour trip from the national highway of Bangar, La Union, through steeps and slopes and the angry Amburayan River, another four-hour walk is needed to reach the remote barangay.
Residents go through an everyday journey under the heat of the sun, onto a rocky climb and a slippery descent, and the long and winding path following the vast river, to attend school and bring their products to the market.
The Matinglin footpath is a narrow way to the homes of majority of the population of Danac. It is too dangerous that one quick mistake would lead you falling to the Amburayan River, an incident that a child experienced, one that he did not survive and that his parents and neighbors would never forget.
That was their alarm to do something about the life-threatening battle they encounter every day, the reason why they are most thankful for Kalahi-CIDSS.
Danac was granted PhP510,439.09 to improve the Matinglin footpath, concreting a safer pathway for their children so parents would never have to worry about them coming home safe.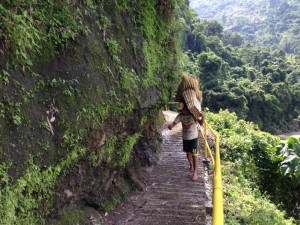 The Matinglin footpath now embraces the edge of a mountain. Yellow railings warm up the green of the trees. A picture of a safer way home. A view of a brighter future without traces of fear.
The Matinglin footpath was recently turned over to the community. The community volunteers pledged to safekeep and maintain the subproject so their children would still be able to use it as they grow up, so fathers can still come back home after a day's work, so that mothers can still come home quickly to prepare dinner.
The journey to Danac has never been this safe. (Helen Veryan C. Valdez, Social Marketing Officer, Kalahi-CIDSS NCDDP)