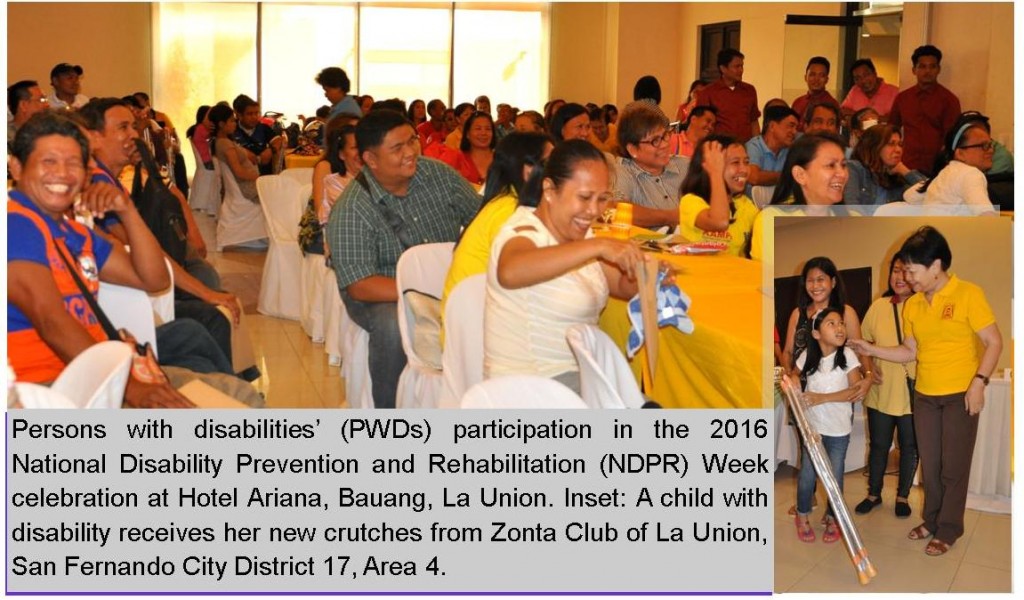 A person with disability (PWD) who sought legal advice on a vilification incident was among the issues tackled with government agencies particularly the Commission on Human Rights (CHR) in a recent symposium.
Also, discussion on accessibility features in public buildings and access to discounts and privileges and distribution of assistive devices were done in the presence of PWDs from various cities and municipalities of Region 1.
The Department of Social Welfare and Development (DSWD) encouraged the Zonta Club of La Union, San Fernando City District 17, Area 4 headed by Ms. Glory Sharpe to participate by donating three wheelchairs, 10 crutches, and 150 dental kits. Also, DOH distributed 115 sets of health kit.
This highlighted the Symposium with Persons with Disabilities held at Hotel Ariana, Bauang, La Union spearheaded by DSWD and the CHR.
According to Arch. Donald Rimando of DPWH, continuous monitoring of public buildings is done to check on their compliance to Batas Pambansa 344 promoting accessibility features and barrier-free facilities for the PWDs. "Those buildings proposed for renovation or repair must comply with accessibility features to comply with the directives of this law," Arch. Rimando said.
Likewise, the DepED, DOH, DTI, and DOLE representatives shared their services such as special education or mainstreaming to regular school, rehabilitation facilities, Negosyo Centers, and Negosyo-Kart, respectively.
"Despite stigma, discrimination, and ostracism that PWDs face, mainstreaming them to schools, communities, and work place is one of the ultimate goals of concerned agencies," said Atty. Harold D. Kub-aron, Regional Director of CHR. Just like everyone, PWDs have the same rights in accessing social spaces, programs, and services.
DSWD as the Secretariat of the Regional Committee on Disability Affairs (RCDA) monitors the implementation of programs directed to further the cause to promote the welfare of the PWDs. It also maintains DSWD's training facility, the  Area 1 Vocational Rehabilitation Center (AVRC1), and  provides technical assistance to partner service providers.
Along with partner agencies, ARD Marlene Febes D. Peralta affirmed the strong commitment of DSWD to perform its finest assistance to partners who are always willing to provide appropriate interventions for the PWDs. "To make the rights of the PWDs impactful and real, we must not forget that we are most effective and powerful when we are one and united," ARD Peralta further said. (by: Iryn D. Cubangbang, Information Officer II)