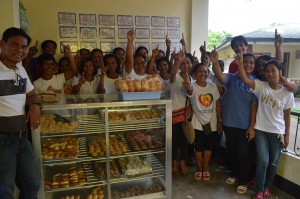 Pandesal and Pastries of Pantay's Pantawid (4Ps) Bakery which offers freshly-baked banana cake, carrot cake, pan de sal, pan de coco, spanish bread, and monay is now open to the public. This is the only bakery in Brgy. Pantay Fatima which operates from 4:00 AM to 7:00 PM every day catering also to nearby barangays.
After a two-week baking training at the Vigan Skills Training Institute, 41 Pantawid Pamilya beneficiaries in the said barangay were equipped with necessary skills in partnership with the Technical Education and Skills Development Authority (TESDA), Department of Social Welfare and Development Field Office 1 (DSWD FO1), City Government of Vigan, and the Barangay Local Government Unit. These Pantawid Pamilya beneficiaries are now also National Certificate II (NC II) holders.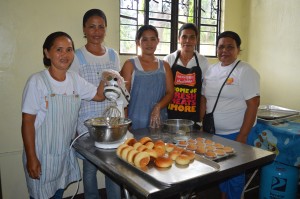 Through the DSWD FO1's Sustainable Livelihood Program (SLP), these business neophytes were provided with starter kits such as oven, mixer, display cabinet, tray, among others and were sponsored with their training fee, meals, and transportation allowances during the training. The City Government of Vigan's "Pagsapulan Raniag iti Masakbayan" shouldered the renovation of the old Barangay Health Center into a bakery. Project Development Officer Jerelee Portillo requested the City Government of Vigan to provide additional capital worth PhP3,000.00 each which the association utilized in putting up a variety store.
Jonabel Abigania, Parent Leader Advocate and Association President, is optimistic as she envisions their business to flourish and expand into a cooperative though they just opened their business less than a month ago. She plans to supply with bread and pastries all Parent Leaders in Vigan City who are store owners.
She also feels proud that all of them are mothers who are now also skilled entrepreneurs.
To ensure efficient sales management, they employ daily bookkeeping and monthly inventory with the assistance of the SLP for sustainability. All proceeds are being deposited in the bank through their Treasurer.
For the next months, SLP will implement another skills training for microenterprise in Vigan City such as Security Guard for potential employment, Fish Tilapia Culture, and Catering NC II.
The SLP is a community-based capacity building program that seeks to improve the socio-economic status of program participants. It is implemented through the Community-Driven Enterprise Development approach, which equips the program participants to actively contribute to production and labor markets by making use of available resources and accessible markets. (by: Jaesem Ryan A. Gaces, Information Officer II/ Pantawid Pamilya)