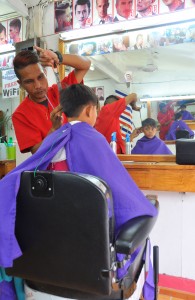 Haircutting in barber shops is usually done by men like Larry Nisperos of Brgy. Payocpoc Norte Este, Bauang, La Union. However, Manong Larry is not your typical barber – he is an on call barber with an exceptional skill in hair rebonding too.
A former farm helper planting rice during rainy season with a wage of Php200.00 per day, Manong Larry learned the craft of haircutting and hair straightening last July through the Sustainable Livelihood Program (SLP) of the Department of Social Welfare and Development – Field Office 1 (DSWD FO1).
Manong Larry together with 19 co-beneficiaries of Pantawid Pamilyang Pilipino Program in Bauang, La Union was provided a free 15-day skills training on hair straightening with haircutting leading to hairdressing National Certificate II (NC II) plus training kits amounting to Php10,116.00 by SLP in partnership with The Great Provider Educational Center of Northern Luzon, Inc. (The Great Provider), a TESDA accredited school.
According to former Bauang SLP Project Development Officer II Xavier James L. Bretana, Manong Larry topped their training class and because of his innate talent in haircutting and hair straightening, he was then chosen by the trainers of The Great Provider as their assistant in their succeeding trainings.
Keen on learning more and has a passion to be a trainer, Manong Larry was provided another pre-employment assistance fund by SLP worth Php5,000.00 for his enrollment to get NC II in hairdressing and be a licensed trainer.
Last March, Manong Larry already achieved his dream to become one of the trainers of The Great Provider. He is now teaching other Pantawid Pamilya beneficiaries on hairdressing for 15 days from Monday to Friday, earning a total of      Php7,500.00.
Aside from being a trainer, he is also being paid Php300- Php1,000.00 a day as a part-time barber and hair rebonder. Manong Larry proudly shares the changes that transpired in their life,  "Simmayaaten ti panagbiagmi, saan a kas idi damo nga agkurang ti kasapulanmi. Dakkel a banag daytoy tulong ti SLP kaniak ta masuportarak ti pamiliak pati tay kaanakak. Makaited ak pay ti balunda nu maminsan nu saan a makapaw-it ni Manang ko kadakuada, isu a dakkel ti panagyaman ko ti naitulong iti SLP (Our life is better now unlike before when our source of income was not enough. The assistance provided by SLP is a big help since I can already support my family and my niece/nephew. Sometimes, I even give them allowance if my sister cannot send them money, that is why I am so grateful for the help from SLP)." (by: Jaymante Pearl B. Apilado, Administrative Assistant III, NHTS-PR/Listahanan)