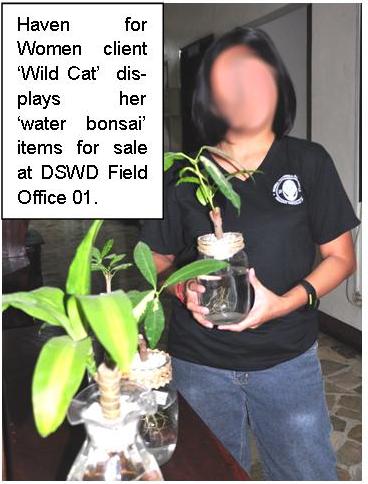 A homosexual street-smart abandoned by her partner who gave birth to a baby boy has turned into a skillful woman. Code named Wild Cat is now among the inspirations at the Haven for Women.
Having experienced a broken family led her to seek attention from drunkards, addicts, and delinquent friends. She tried to survive on her own but never contained her rebellious heart.
According to her, she did not reach high school but her abilities and friends led her to work as a call center agent and a real estate broker in Manila.
When she got pregnant, she wanted the baby to be adopted by anyone upon giving birth. Upon talking with a Social Worker in her hometown in La Union, she was referred to the Haven for Women, that time on her 9th month of pregnancy.
Turn- Around Made Easier
Wild Cat appreciated her attendance to Mother's Class, among other psychosocial interventions in the Center. Patience was built and love for her child grew naturally. Referring to her son, "Hindi lang siya ang meron ako, ako lang meron siya (He is not the only one I have, I am the only one he got)."
She was restored emotionally, spiritually, socially and has begun relating with others in the Center. She even finished her Alternative Learning System (ALS) modules.
At present, she is engaged in 'water bonsai'-making, one of the trainings sponsored by the Center for resident-clients. She was able to raise at least Php 5,000.00 from this and still propagating.
She is NCT II- accredited in hair cutting but also wishes to be trained on welding for future work abroad.
At present, the Haven for Women is the temporary home of 40 resident-clients, most of them victims of incestuous rape and physical abuse. (by: Iryn D. Cubangbang, Information Officer II)