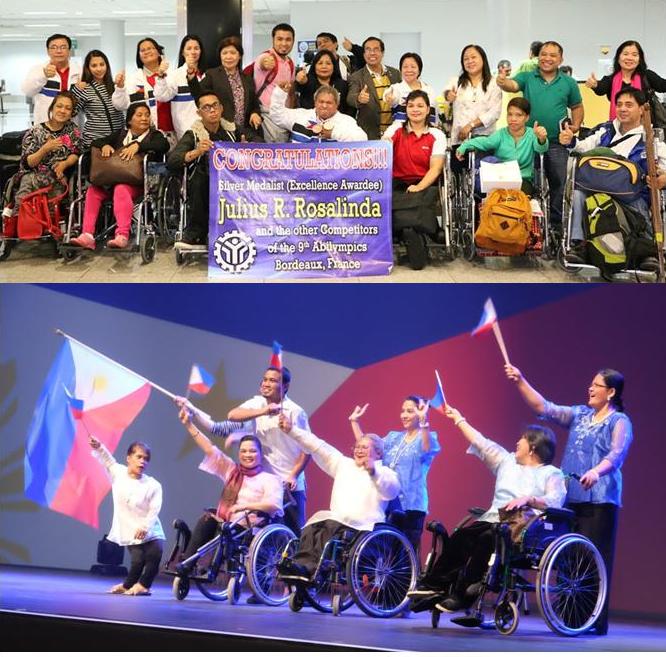 Four out of nine from the Philippines who attended the International Abilympics at Bordeaux, France came from Region 1- three of them graduates of DSWD-Area 1 Vocational Rehabilitation Center (AVRC1).
"I thank God for every blessing, I even consider my disability as a blessing which already brought me to different places," Jennifer V. Garcia, an orthopedically-handicapped who competed for Word Processing, said in an interview. She is currently employed at AVRC 1 and is also a graduate on sewing and Basic Computer Literacy.
Other contestants from Region 1 are: Preciosa Paz Quinio, hearing impaired for Photography; Annie Rose Rumbaua, orthopedically-handicapped for Cookery; and Jerome Marzan, hearing impaired for Webpage Development.
This fete to the 9th International Abilympics was jointly facilitated by the Department of Social Welfare and Development (DSWD), National Council on Disability Affairs (NCDA), Technical Education and Skills Development Authority (TESDA), and Abilympics Philippines Incorporated (API).
With the theme "Common Skills, Uncommon People", the four-day professional skills competition brought together from 33 countries 650 contestants who competed to showcase their vocational abilities in various trade and technology areas. The said international event was conducted on 21–28 March 2016.
Coach Purita P. Cueto, DSWD AVRC1 Senior Manpower Development Officer said, "It is heartening to see people with disabilities showcase their skills and talents confidently thus inspiring fellows from different nations."
DSWD FO1 Dir. Marcelo Nicomedes J. Castillo who served as a Judge on Waste Re-use was among the officials of Team Philippines.
According to the four competitors, honor, pride and experience were added in a remarkable part of their being with this international competition even though they did not win. Ms. Garcia then conveyed her warmest gratitude to the organizers especially the DSWD for the support and wonderful opportunity given.
Prior to the said international event, series of activities were undertaken to gauge the contestants' preparedness and competitiveness under the supervision of Mr. Gilbert Caronongan, Abilympics Focal Person from TESDA. AVRC-1 led by Mrs. Elizabeth C. Manuel, Training Superintendent II, also provided every means of support while the competitors underwent comprehensive training to ensure their win.
Team Philippines ranked no.14 over-all, bringing home 1 silver medal in Waste Re-use. (by: Elizabeth C. Manuel, AVRC Training Superintendent II and Iryn D. Cubangbang, IO II )