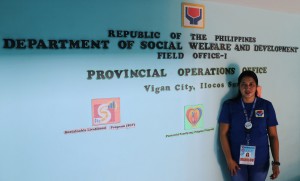 Teaching a woman to fish so she can feed herself and her family for a lifetime is a long-term benefit that Sustainable Livelihood Program (SLP) offers to Pantawid Pamilya grantees like Darleen M. Alquisa, a Parent Leader (PL) from Brgy. Salindeg, Vigan City, Ilocos Sur.
Alquisa, happily married with four children, is a graduate of Bachelor of Science in Business Administration. Two of her children are Pantawid Pamilya beneficaries while the other is a scholar of the Department of Social Welfare and Development – Field Office I (DSWD-FO1) through the Expanded Students' Grants-in-Aid Program for Poverty Alleviation (ESGP-PA).
"Saan met lang nga iyur-uray ti maawat ti maysa a Pantawid. Igaed ko pay lang a makaalaak pay lang ti pagtrabahuak a pangnayon ko ti panagbiag mi (I'm not just waiting for the cash grants from Pantawid Pamilya. I still strive hard to get a job, so I can financially contribute to the needs of my family)," Alquisa said.
The City Links in Vigan City always encourage Alquisa and her fellow Pantawid Pamilya grantees to actively participate in all the trainings and workshops of SLP that will allow them to manage a sustainable micro-enterprise or link them to apply for any locally available job to improve their standard of living.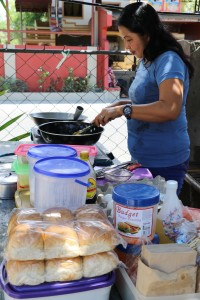 Alquisa then was given an opportunity by SLP to attend a training on Basic Food Preparation and Cookery and was also given a Basic Cooking Set worth Php 6,000.00 so she can start her small business of selling street foods.
Even though Alquisa is now 43 years old, she is still keen and determined in grabbing any opportunity to work in DSWD-FO1 since expenses in the education of her children are increasing. She first became an encoder of Social Welfare and Development Indicators (SWDI) of Pantawid Pamilyang Pilipino Program (4Ps), then an Enumerator of the Special Validation conducted by the National Household Targeting System for Poverty Reduction (NHTS-PR) for Social Pension (SocPen) and Modified Conditional Cash Transfer-Families in Need of Special Protection (MCCT-FNSP). She was also hired last year as an Area Supervisor of NHTS-PR/Listahanan during the Second Round of Household Assessment and Validation Phase. She is now a Project Development Officer II of SLP.
Alquisa and her family are grateful for all the assistance and opportunities that they received from the different programs and projects of DSWD-FO1 to uplift their way of life.
Teary-eyed, she narrated "dakkel a talaga ti nagbaliwan ti panagbiag mi, nababa ti estado iti panagbiagmi idi. Arig na saan kami pay a manganen ti mamintallo ti maysa nga aldaw ken usto nga oras. Idi gamin, ti pammigat laeng tay inauna nga anak ko ket kape ken innapoy. Itattan mamintallo kami metten a mangan ti uneg ti maysa nga aldaw. Makameryenda payen dagiti annakkon (Our life has improved from a low state of living. Before, we were not even eating on time and three times a day. In the past, the breakfast of my eldest child was only coffee with rice but now we already eat three times a day and my children can even eat merienda)." (by: Jaymante Pearl B. Apilado, Administrative Assistant III, NHTS-PR/Listahanan)