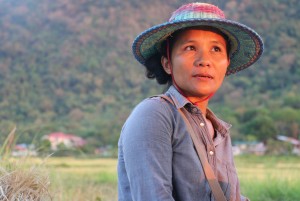 Rebel no more!
As young as 13 years old, Armelina Garaña from Dumalneg, Ilocos Norte was enticed to be a part of a rebel group for five years until she decided to return and is now an active partner-beneficiary of the Department of Social Welfare and Development – Field Office I (DSWD-FO1). "Idi immurnos met ti panunotkon ket naamiris ko nga awan ti maganab ko idiay (kas maysa a rebelde), awan ti masakbayak (When I became more mature, I then realized that I will not benefit and I do not have a future as a rebel)," Garaña said.
Life was not that easy for Garaña having a family with four children. She is a housewife while her husband has a seasonal job as a construction worker.
She narrated how her family's life became better with the assistance coming from Pantawid Pamilyang Pilipino Program and Sustainable Livelihood Program (SLP) of DSWD-FO1. "Kaasi ti Apo imimbag bassit ti panagbiagmi. Dagitay maaw-awat ko a tulong (naggapu iti Pantawid Pamilya) ken ti panagited da kaniak ti pribelehiyo nga agloan (naggapu iti SLP), dakkel unay nga tulong kaniak tapno mapadur-as ko met bassit ti pamiliak (By God's grace, our life became better. The support that I am receiving from Pantawid Pamilya and the privilege to get a loan from SLP are of great help so I can uplift the life of my family)," she recounted.
Garaña's family was identified as poor by Listahanan in the 2009 First Round of Household Assessment, and they became a Pantawid Pamilya beneficiary in 2011. In 2014, she was given a Php10,000.00 capital assistance for hog raising through Self-Employment Assistance – Kaunlaran (SEA-K) modality of SLP.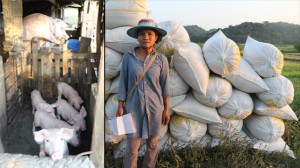 Garaña is now a successful hog raiser who owns two mother sows. Her highest profit was Php 24,000.00 by selling the 20 piglets of the two mother sows. With the income she gained from selling piglets, she started investing in credit facilitation to rice farmers. For every Php 1,000.00 that she lends to farmers in their barangay, she is paid with100 kilos of unhusked rice.
At present, she is the president of their Pantawid Pamilya Association in Brgy. Dumalneg where they have more than Php 9,000.00 savings that the members can borrow in case of emergency with a two percent interest.
She also leads her co-beneficiaries in their vermicomposting pilot project initiated by the Local Government Unit (LGU) of Dumalneg where they have already harvested 400 kilos of vermicompost sold to farmers at Php 5.00 per kilo.
She was again tapped by the LGU of Dumalneg to spearhead the project of planting coffee seedlings in the hilly area where she is being paid Php 300.00 a day.
Garaña wants to inspire others through her life story. She said, "Uray nu kasatno ti rigat iti panagbiag nu desidido ka a rumang-ay ket kabaelan ti Pilipino nga itawid iti bagi na iti kinarigat iti panagbiag (No matter how hard life is if you are determined to make your life better then you as a Filipino is able to rise from poverty)."(by: Jaymante Pearl B. Apilado, Administrative Assistant III, NHTS-PR/Listahanan with a report from former PDO II Pamela Lyn N. Vinluan )