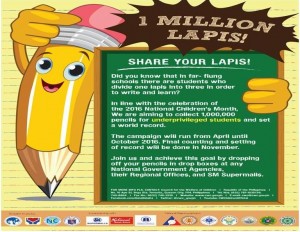 In celebration of the National Children's Month in November by virtue of Republic Act 10661 "National Children's Month Act" series of 2015, the Council for the Welfare of Children (CWC) has launched the "One Million Lapis Project" to promote the child's right to (write as basic right) education especially for children whose situations have impeded their chances to go to school. "Lapis" is a symbolic representation of the child's need to express one's ideas and feelings, be empowered through learning, in recognition of the importance of writing skills and materials.
A documentary report in 2012 reveals that in far-flung villages, there are situations where elementary students divide one "Lapis" into three to be able to write. This shows the lack of materials for writing compounded with inadequate school facilities and the long distance of travel from home to school.
The project is a partnership of National Government led by CWC and the Department of Education with business establishments, SM Malls, and National Bookstore. It aims to gather Lapis/Pencils for the benefit of underprivileged students who lack the opportunity to pursue schooling (necessary materials for writing). It is being envisioned to enter the Guinness Book of World Records by 2016.
Education plays an important role in helping children develop, reach their potentials, be able to engage meaningfully and build resiliency. This means that ensuring education of a child promotes child protection by empowering them to build resiliency. Provision of quality and relevant education to girls and boys decreases their risks of becoming victims of violence.(by: Mr. ElinoBardillon, Head, CWC Public Affairs and Information Office)