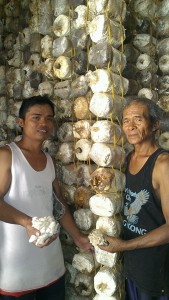 In Barangay Suyo, Dingras, Ilocos Norte, 20 simple mothers and farming-fathers turned into co-owners of mushroom production which now earns at least Php 600.00 to           Php 1,000.00 for a 4-kilo harvest a day in the last 6 months.
This was made possible through DSWD's Sustainable Livelihood Program's (SLP) Cash for Building Livelihood Assets (CBLA) in the amount of Php 41,800.00 as labor cost for 11 days and Php 255,000.00 which funded their skills training with starter kits.
Through this, the Mushroom Producer Farmers Sustainable Livelihood Program Association (SLPA) was organized from the 20 Pantawid Pamilya beneficiaries.
Aside from learning the technology from TESDA, camaraderie was developed among the members since the preparation of fruiting bags with saw dust and other materials. "Naragsak kami ta adda tulong iti Sustainable Livelihood Program ken iti munisipyo (We are happy of the assistance from Sustainable Livelihood Program and the Municipality of Dingras)," said Lolita Sarmiento.
The group's hard work paid off after 45 days of waiting for the first mushrooms to sprout from the hanged fruiting bags. This was the start of their regular duty at the mushroom growing house for cleaning, watering, harvesting, and vending among the neighborhood and other customers.
The beneficiaries were required to deposit minimum savings in the bank instead of weekly repayment like other SLP modalities.
After three months, the group's savings also financed their hog butchering sub-project which gave them an income of Php 26,000.00, at most.
Convergence strategy employed
Indeed, resources were pooled together from various institutions such as Barangay Suyo, the Municipality of Dingras, and TESDA-Marcos Agro-Industrial School (MAIS).
Through the initiative of a Barangay Lupon who is also a co-owner of the project, Mr. Armando Vizconde, 64, the Barangay Captain and fellow villagers allowed the use of a 9X9 meter-public lot for the construction of mushroom growing house amounting to Php 140,000.00 of materials given by the Municipality of Dingras. Also, additional bags of spawn were given by TESDA-MAIS.
Project Development Officer Fernan Pumbo will help the group tap other agencies that will provide other equipment such as dehydrator to develop other variety of mushroom products. (by: Iryn D. Cubangbang,IO II )