In the recently conducted Regional Recognition for Innovative and Excellent Practices held at Manila City, Kalahi-CIDSS Field Office 1 brings home the Gawad Kalahi Award for Innovation and Breakthrough in CDD Management for Effective Engagement with the National Commission on Indigenous Peoples (NCIP).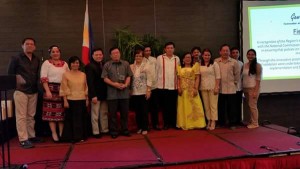 The partnership between the Department of Social Welfare and Development and NCIP of Region 1 was noted due to its effective partnership in giving due consideration to the Indigenous Peoples who are residents and beneficiaries of Kalahi-CIDSS. The Program ensures that policies on social safeguards are met to protect the rights of the IPs and all sub-projects implemented are participated by them.
DSWD Regional Director Marcelo Nicomedes J. Castillo, Assistant Regional Director for Operations Marlene Febes D. Peralta, Regional Program Coordinator Virginia P. Sesay, and Deputy Regional Program Manager Orson C. Sta. Cruz led the FO1 delegation in receiving the award handed by National Program Manager Benilda E. Redaja.
Partnerships with other government and non-government agencies are vital in Kalahi-CIDSS to ensure smooth Program implementation. With Ilocos Region still gearing towards the end of the first cycle, it is indeed notable that it has already created deep affiliation and understanding with its partner agencies. Kalahi-CIDSS Region 1 expects to continue this effectual working relationship to best serve its stakeholders especially the marginalized IPs who dominates 10 out of the 11 Kalahi-CIDSS areas. (Helen Veryan C. Valdez, Regional Social Marketing Officer, Kalahi-CIDSS NCDDP)