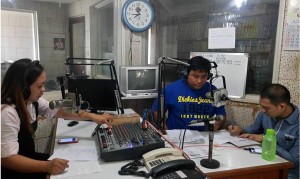 DSWD's accreditation of Civil Society Organizations (CSOs) that are at least 3 years in operation prove their legitimacy and assessment for possible access to government agencies' funds and technical expertise.
Thus was announced during the radio guesting of Wensley B. Sandi, Project Development Officer III of the Standards Unit of DSWD FO1.
This Accreditation of CSOs as implementing entities and beneficiaries of government-funded programs and projects is in accord with the Joint Memorandum Circular 2014-001 and Joint Resolution 2015-001 of DSWD, Department of Budget and Management, and Commission on Audit.
Accreditation lies within these areas of expertise: livelihood development, manpower development, sports development, cooperative development, delivery of basic services, environmental protection, agriculture and fisheries, development of local enterprise, disaster risk reduction, disaster relief, and rescue operation.
CSOs applying for the accreditation must not have any derogatory record with any government agency and should not be in default or delayed in liquidating funds from any government agency.
The CSOs applying as implementing entities need to present the following: Certificate of Registration from Securities and Exchange Commission (SEC), Cooperative Development Authority (CDA), Department of Labor and Employment (DOLE) or Housing and Land Use Regulatory Board (HLURB), together with Articles of Incorporation or Articles of Cooperation, By Laws, General Information Sheets for the past three years, Secondary Permit, Current Business License Issued by the LGU, and Certificate of Registration with BIR together with Annual Income Tax Returns and Audited Financial Statement for the past three years.
Documents to prove good standing are also needed such as List of Programs and Projects for the past three years, Certificate of Good Standing Issued by SEC, CDA, DOLE, HLURB issued within the last three months, Certificate of Good Standing from the Government Agency from which the CSO received funds previously, and Certificate of Affiliation and Certificate of Good Standing issued by the umbrella group to which the CSO belongs. (by: Iryn D. Cubangbang,IO II )