Burgos, Pangasinan recently conducted its hand-over ceremony for the five remaining sub-projects completing the six Kalahi-CIDSS sub-projects in the Municipality. The full ownership of the sub-projects is now handed to the community. Bundled with this, the responsibility of maintenance, safekeeping and sustenance is now in the shoulders of the barangay members.
Earlier this year, Burgos launched its first completed sub-project, a 398-linear meter barangay road in Barangay San Miguel which is now being used to transport products to the market, and for students to conveniently travel from their homes to the school.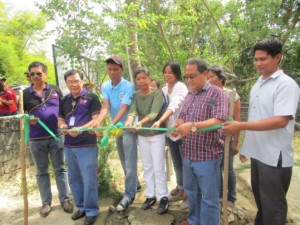 The ceremony started with a motorcade where the participants went from one sub-project to another to perform a ceremonial ribbon-cutting. The sub-project blueprints were also placed into the pedestal which stands as the formal recognition of the barangay's unity and participation.
A Deep Well Water System is launched in Barangay Sapa Pequena. With 16 units distributed among all the sitios in the said barangay to ensure that all the residents will benefit from the safe and potable water the Deep Well is producing. One of the 16 is placed inside the campus of Sapa Pequena Elementary School to give the students an easy access to clean drinking water. The total cost of the Water System amounts to P1,767,732.17.
Barangay Poblacion also launched its newly-constructed Day Care Center. The said sub-project will cater to all the Day Care children in Poblacion and is open even to the residents of the neighboring barangays. The sub-project cost totals to P1,021,137.75 covering from the cost of construction and paid labor up to the complete amenities and furnishing for convenient use of the students.
Barangay San Pascual, Papallasen, and San Vicente formally opened their barangay roads for public use. With lengths of 430 meters, 550 meters, and 240 meters, respectively, the barangay roads will ease the transportation of agricultural products such as rice into the market. The roads will also benefit the students who, in the past, walk through muddy farm lands just to attend to school.
Barangay San Pascual sub-project cost amounted to P1,444,314.44, while Papallasen  totaled to P1,732,162.94, and San Vicente P830,442.32.
The 5-in-1 turn-over and ribbon-cutting ceremony was attended by the Regional Director of the Department of Social Welfare and Development, Marcelo Nicomedes J. Castillo, the Regional Program Management Office staff headed by Deputy Regional Program Manager Orson C. Sta. Cruz, the Municipal Local Government Unit staff lead by Mayor Alberto Guiang Jr., the Area Coordinating Team, and the Barangay Council members and the community volunteers of the five prioritized barangays, and some members of the media.
"Pag may pagkakaisa ang pamayanan, may patutunguhan ang ating bayan," Regional Director Castillo said in his message, reminding everyone to continuously unite and be one for the next cycles of Kalahi-CIDSS implementation. (Helen Veryan C. Valdez, Regional Social Marketing Officer, Kalahi-CIDSS NCDDP)