TWO programs, ONE beneficiary PLUS ONE educational assistance.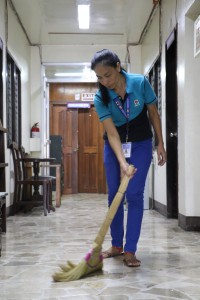 The Pantawid Pamilyang Pilipino Program and the Sustainable Livelihood Program (SLP) of the Department of Social Welfare and Development-Field Office I (DSWD-FO1) converged in helping a solo-parent for six years, Marissa L. Madanay from Pao Norte, City of San Fernando, La Union.
After Madanay's husband left her in 2010, she found a partner in life in raising her two children through DSWD-FO1.
Madanay's children became Pantawid Pamilya beneficiaries in 2011 while she became a Pantawid Parent Leader helping City Link Ylona Marie Fabia in reaching the houses of her fellow Pantawid Pamilya beneficiaries.
When DSWD-FO1 needed a utility worker way back in 2014, she was recommended by City Link Fabia to SLP's Project Development Officer (PDO) Harlene May Flora, who then referred Madanay to FRC General Services Agency, the outsourced company of DSWD-FO1 in hiring utility workers.
Madanay then became a utility worker of DSWD-FO1 and until now earns Php253.00 a day. On the same year, she was also given a seed capital fund from SLP worth Php10,000.00 as a loan for her to start a small business for additional profit.
Since Madanay is busy working in DSWD-FO1, she let her sister manage her business of buying and selling frozen foods. Every month, her sister remits Php500.00 as her share from the proceeds of her small business.
Looking back, Madanay narrated the status of their life before having DSWD-FO1 as her partner in life. "Maymayat metten ti panagbiag mi. Haanak metten nga umut-utang diay grocery ti karuba mi. Nu makautang ak man ket adda ti pagalaak ti pagbayad ko. Idi gamin ket nagbayag bago ak makabayad ti utang, awan gamin ti pangalaak ti pagbayad. Ngem tatta nu umutang ak man, adiay ibagak nga due date ti panagbayad ko, mabayadak met lang nga sigudin. Manaynayunak pa yen ti balun dagiti ubbing ko ti eskwela da (Our life is better now since I no longer borrow from our neighbors' grocery business. If in case I have to borrow, I already have an income to pay off my debts. Unlike before when it took a lot of months before I can pay my debts. But now, when I need to borrow, I can already pay it back on the date that I promised. Now, I can also provide additional allowance for my children)," said Madanay.
Fortunately, since Madanay has been longing to go back to school to finish her college degree, she was also given an opportunity to study every Saturday with the help of the Crisis Intervention Unit of DSWD-FO1 through its educational assistance service.
Madanay already finished her two years in College taking up Bachelor of Science in Business Administration. A few more years to go and her dream of finishing her degree would become a reality. She would like to inspire everyone experiencing hardships in life just like her. "Haan kayo nga sumuko nu itatta ti biag yu ket marigrigat ta adda met iti suporta nga it-ited ti gobyerno, ken dagiti suporta nga mait-ited ti gobyerno ket gamitin iti nasayaat para ti masakbayan ti pamilia (Don't give up if you are experiencing hardships in life right now because we can get support from the government and the support that we are getting from the government must be used for the benefit of our family)," said Madanay. (by: Jaymante Pearl B. Apilado, Administrative Assistant III, NHTS-PR/Listahanan)