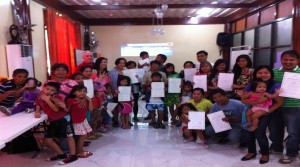 DSWD Field Office I sponsored the first Adoption Congress and series of advocacy activities promoting legal adoption.
As emphasized by Dir. Marcelo Nicomedes J. Castillo during the Adoption Congress, the event was a good venue to share opinions, experiences, and solicit advice on unresolved concerns in the process of adoption. The adoptive parents were described as true angels of these abandoned, neglected, or surrendered children and Dir. Castillo thanked them for 'giving life to these children.'
In 2015, Region 1 has catered to 246 child abuse cases – 89 of which are abandoned, 60 are neglected, and 97 are surrendered children.
"Because of the big number of abandoned and surrendered children, DSWD is inviting more interested individuals or couples to adopt," said Community-based Services Head Clarivel Banzuela.
Because of this regional situation, promoting legal adoption and negating simulation of birth certificate were bannered during series of radio guestings at DZEA, Laoag City and DZRD, Dagupan City.
As advised, interested individuals or couples need to understand that in adoption, the best welfare and interest of children are the primary considerations of the Social Workers during assessment.
Adoption is not self-serving. Adoption happens because there are people wanting to share their lives and resources to these vulnerable children left by biological parents because of varied circumstances as elaborated by Mylene Cabanban, Social Welfare Office II, during DSWD's radio program aired over DZEA, Laoag City.
An Adoption Desk was also established at SM City Rosales where at least 30 formal queries were attended to in support to the said campaign. (by: Iryn D. Cubangbang, IO II )